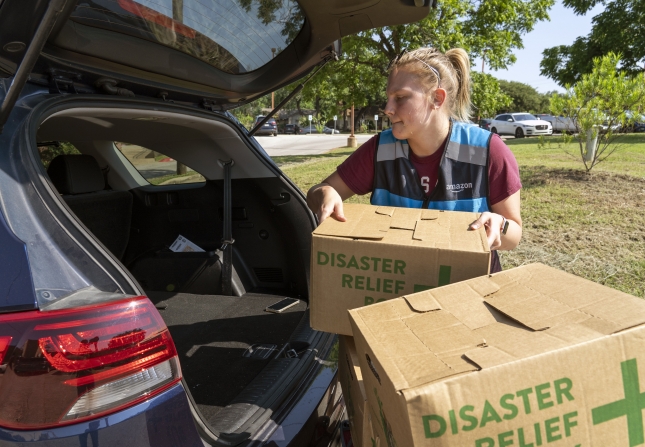 One in seven Central Texans is at risk of hunger. To serve families in need, the Central Texas Food Bank has a network of food programs and more than 200 partner pantries across a 21-county service territory in Central Texas. Despite our resources, many Central Texans still have barriers to access food.
That's why we're excited to partner with Austin Public Health Neighborhood Services and Amazon to pilot a home delivery program. Participants will receive a monthly box of shelf-stable food products, delivered directly to their door—all free of charge.
The pilot program launched June 1 and it is available to Travis County residents with children or older adults ages 60 or older who are in need of food assistance and have barriers to attending in-person food distributions.
"Our Neighborhood Services Unit has worked tirelessly to ensure local families in need of food assistance can find the help they need," said Adrienne Sturrup, Austin Public Health Interim Director. "Through our new partnership with the Central Texas Food Bank and Amazon, we are able to provide additional opportunities to expand food access to those who need it most and continue to reduce the barriers to accessing essential services."
Whether it's older adults who lack transportation or parents who are working two or three jobs, the program's goal is to increase food access to individuals in need. Amazon will pick up the boxes of food from the six Austin Neighborhood Centers and provide contactless delivery. Participants can expect a recurring monthly 30-pound box of varying food items such as oatmeal, pasta, corn flour, dried beans, canned protein, and canned fruits and vegetables.
"These last 15 months have been really hard for everyone and people who have been thinking about not having food, not being able to prepare a hot meal for their families, this is another way that they can ensure that they're going to have food on the table," Monique Flukers, Program Manager for Rosewood-Zaragosa Neighborhood Center, said. 
With less than two months since the launch, the program has already received positive feedback from participants and from Amazon drivers who are excited to make a difference while they work, Monique said. 
Since the program began on June 1, more than 300 households have enrolled and more than 8,500 meals have been delivered. As the program continues, we hope to expand it by including more delivery days and enrolling veterans and people with disabilities. 
At the Food Bank, we believe everyone should have access to food. We're excited to see this program help us reach even more Central Texas families in need. We need your help to make this program a success. We are looking for Partner Support Volunteers to assist the neighborhood center staff and Amazon drivers to help this program run smoothly and efficiently. Volunteers will help greet Amazon drivers and verify drivers' assignments and box count, provide general customer service to the drivers, and insert resource materials into the boxes as needed. For more information about volunteering for this program, click here.