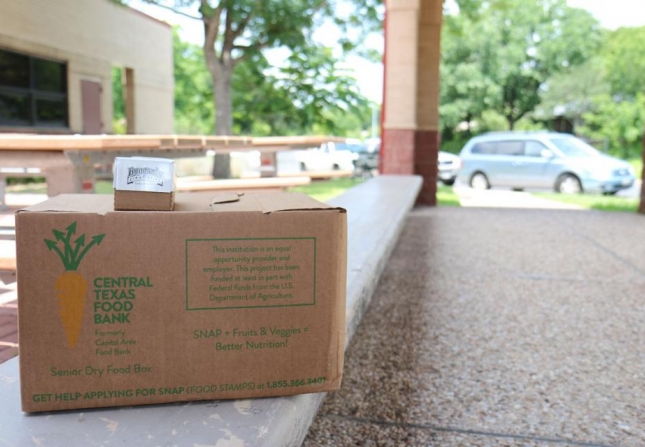 While COVID-19 is a great concern for all of our community, our older neighbors are among the most vulnerable to the virus. Additionally, the pandemic has put an even bigger strain on older adults who must choose between their safety and putting food on the table.
With that in mind, the Food Bank has taken measures to ensure older adults get the help they need without risking their health.
One of the primary ways we are serving adults 60 years and older during the pandemic is through our Commodity Supplemental Food Program (CSFP). Each month, low-income seniors enrolled in the program can pick up a box of nearly 30 pounds of groceries. The exact contents of the box vary, but it includes cereal, juices, proteins, peanut butter, dry beans, milk, grains, canned fruits and vegetables and two pounds of cheese.
In March, we distributed boxes to 3,002 older adults, one of our highest months ever served. Since the pandemic began, we have increased our distribution sites to 53 in April compared to 48 sites in February. Our sites include a combination of pantry partners, our own mobile distributions and low-income senior housing complexes and recreation centers.
Most of our sites have been converted to drive-thru distributions to maximize social distancing. While we did have to cease distributions at two sites for safety reasons, we're working on re-opening them as soon as possible.
The changes to our distribution model have been essential to ensure the safety of our neighbors like Rachel, who are at greater risk of contracting COVID-19. Injury to her cervical discs left her disabled. Between trying to pay all her medical expenses and trying to keep the lights lit on her fixed income, she relies on the Food Bank for food.
Before COVID-19, Rachel would pick up food each month at her local rec center. Now, older adults like her can safely receive food from the safety of their car.
"I make it by being here and getting food. That's a big help…You have no idea how you affect my life, our lives, by you being generous and I just want to thank you for it," Rachel said.
We understand that not all seniors who are part of this program are able to pick up food at our distributions. That's why we are doing home delivery at 12 of our Housing Authority of the City of Austin sites, so that seniors who are to sick or lack transportation can get the nutritious food they need safely.
Due to the crisis, we have reduced person-to-person contact by knocking on the client's door and leaving the box of food outside. Food Bank staff is currently delivering boxes of food to 100 older adults. With help from our pantry partners and their volunteers, we're able to serve more home-bound seniors than our staff could do by themselves.
May is Older Americans Month and we're proud to be able to nourish our older neighbors safely during COVID-19 by adapting our distribution models and distributing more boxes of food than ever before.