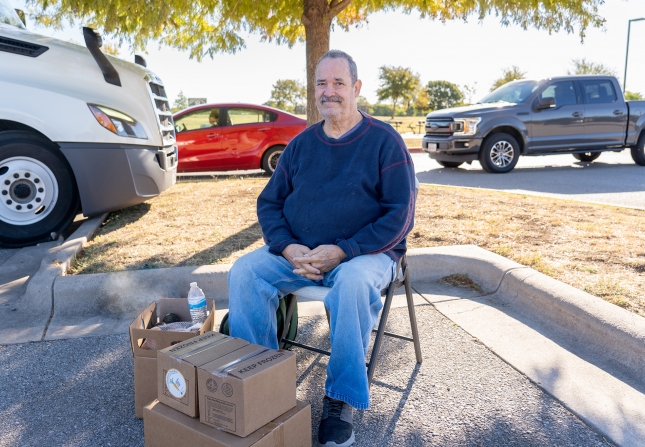 A little over a year ago, Grant began visiting his local mobile food pantry. "I was homeless when I first got here," Grant shares. Today, he's living in a furnished apartment. "It took me a year to get there, but everything's looking good."
It's thanks to his years serving in the Vietnam War that he was able to access housing. "I'm a veteran," he says. Through the VA, Grant found the help he needed. Now, he's able to use the kitchen in his new apartment to cook nutritious meals with the food he picks up from the Food Bank.
While this past year was the first time Grant was picking up food for himself, it was not the first time he'd paid visit to the Food Bank. "I used to come through these lines feeding the homeless. I would get the food and everything and bring it to them," Grant recounts. When Grant became unhoused, the neighbors he had previously helped were surprised when they recognized him. The time experiencing homelessness brought about immense hardship, even creating distance from his family for a time. However, Grant continues to find gratitude—particularly in the community he's found along the way.
"The people here are very special," says Grant of the mobile pantry volunteers. "They really enjoy what they're doing and they treat me like a king! That really makes me feel good." One morning, while visiting the Food Bank office, Grant witnessed volunteers arriving for their shift in the warehouse. "Seeing all the volunteers come in…it's very, very uplifting to see that."
For Central Texans like Grant, access to services like the VA and the Food Bank can be life-changing. "Everything's coming together," Grant says. Your support can help put more food on the table for neighbors like Grant, give your gift today.