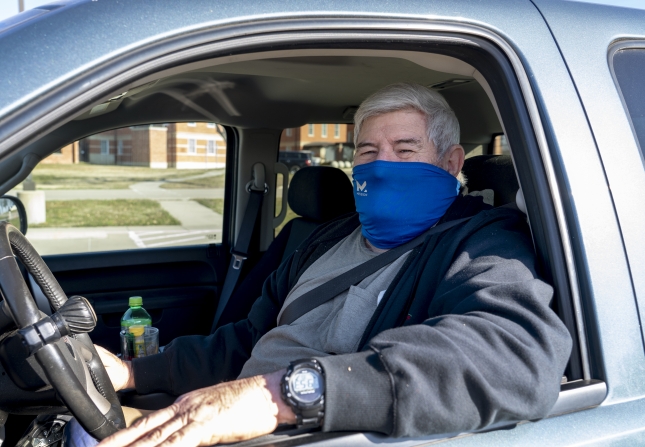 Eight years ago, 62-year-old Richard was in an accident during which a ladder broke off the side of a truck and hit him. He ended up with a blood infection that traveled to his legs. He lost a leg and half of his other foot. 
Now, Richard can barely walk. Even with prosthetics, he's lucky to make it from his house to his truck. Richard never imagined he would be in the position that he's in, especially after the adventures he had when he was younger. 
He spent 20 years serving in the Navy. After being stationed for three years in Japan, he was sent to the Persian Gulf. For 16 years he moved from ship to ship teaching others how to use weapons and searching and seizing other ships to prevent any contraband from entering Iraq. 
Richard remembers his days in the Navy fondly. The accident forced him to stop working and he now relies on retirement from the Navy to make ends meet and takes extra measures to save as much money as possible. 
The Navy veteran lives deep in the countryside. The nearest grocery store is about 26 miles from his house. Richard drives a pickup truck and is only able to afford gas for up to two trips a month to and from town. Unfortunately, a pickup is the only vehicle that is large enough to fit his scooter. 
Even after making lifestyle changes to save money, it's not enough to make ends meet. Richard has been dipping into his savings to stretch his budget, but has now drained his account.
"I'm trying to live off of my retirement, and since I lost my leg and half my foot, I can't work, so I need some assistance," Richard said.
At the VA Center Richard attends, he learned about the Food Bank's Mobile Pantry distribution. The food that he receives helps him put food on the table, especially since he can only afford to go grocery shopping once a month. 
The Waco VA distribution Richard attends is one of three Central Texas Food Bank veteran-focused Mobile Food Pantries. An estimated 25 percent of all households the Food Bank serves report that someone in their household is a veteran or is a member of the military Reserve or National Guard. Since 2017, the Food Bank has partnered with the Central Texas Veterans Health Care System to provide food assistance to veterans onsite at VA Medical Centers in Austin, Temple and Waco.
For veterans like Richard, having the Mobile Pantry onsite at the VA makes it easier to access food while they receive care at the VA. Richard makes different dishes with what he receives, but he does like to make cabbage soup when he gets cabbages at the distribution. 
"Thank you very much and we really appreciate it. All of us do," Richard said.