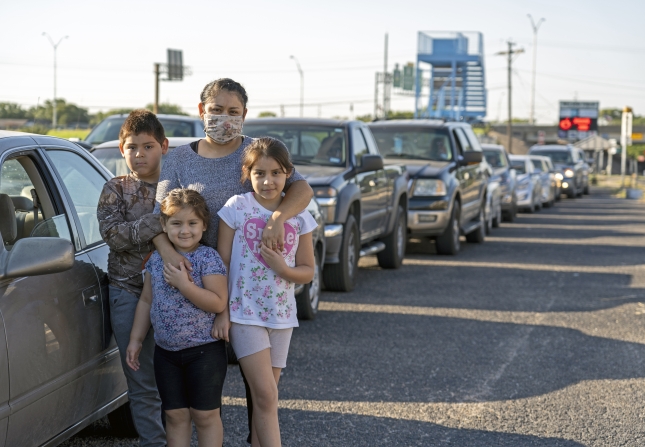 After months of having her kids at home, Maria is getting ready for them to go back to school. But this school year is very different. Her four school-aged kids—a 5, 8, 10, and a 12-year-old—will begin classes online. 

As her kids start school, Maria is worried about whether her kids will be able to focus on school at home, providing breakfast, lunch and dinner for her children, and childcare costs. 

While her school is providing the laptops for her kids to use, Maria will continue to provide the meals her kids would otherwise receive at school.

Just like many other Central Texas families affected by the pandemic, Maria's family has been struggling to make ends meet. Both Maria and her husband's jobs have been affected. Maria used to work cleaning houses three times a week, but since the pandemic began, sometimes she only works once a week or not at all. Her husband's hours have also been cut and he only works three or four times a week now. 

With the change in their household income, the family has been using their savings to pay their bills and expenses.

"We're using our savings, the savings we were keeping perhaps for the future, I don't know, so that they can get an education or for emergencies… if I only had one child it would be ok, but I have four," Maria said.

As the family uses up their savings, expenses like childcare loom over their family as the kids continue to stay home for online classes. To help stretch their budget, Maria decided to get help from the Food Bank to provide her kids the nourishing meals they need to start the school year. 

 "I came because the food that y'all are giving us helps a lot. The kids are at home and they are eating the whole day. We do need help," Maria said. 

At the Food Bank's distributions, Maria receives staples, vegetables, fruit and protein. Her kids especially love the potatoes her mom gets. 

"Since y'all always give potatoes, the kids really like potatoes with eggs…they really like eggs, they like rice, they like beans, they also like vegetables but only with stews," Maria said.

With the food Maria receives at Food Bank distributions, she's able to save money on her grocery bill to use on other expenses like paying the bills and childcare costs. 
As Maria's family prepares for back to school, she's grateful for the help from the Food Bank to provide healthy meals for her kids so "that they can learn better," she said.