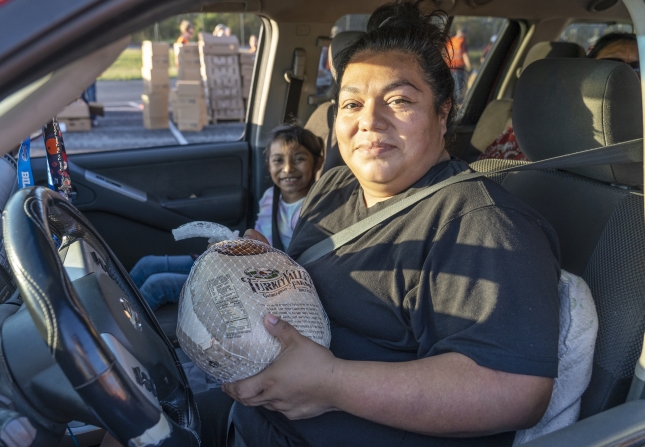 When Sandra has a little extra money, she likes to treat her kids to something they're not always able to have—fresh fruit and vegetables. Sandra's kids love eating all kinds of vegetables, but produce is hard to come by for the family. 
Sandra's husband is the family's sole provider and with four growing children, buying fresh vegetables or fruit is a luxury. These past two years have been difficult for Sandra's family. When the pandemic began, Sandra had to stay at home with her four children—ages 8 to 16—to home school them. Since then, the family has been struggling to make ends meet. 
"I don't work because when the kids were doing homeschooling, I stayed and I have four. So it was hard getting around and then providing food for the kids too… on top of bills and everything, [the pandemic] really did a lot on us. They're growing kids and the way they eat, it's like snacks, on snacks, on snacks. It's a lot," Sandra said.
With all the children at home, food goes by fast. Even with careful meal planning, the rising cost of food makes it hard to buy groceries. The family has to go without sometimes or cook simple meals. To help stretch her groceries, Sandra gets help from the Food Bank where she is able to receive a variety of food. Sometimes she'll make chicken, pasta or soup with the food she receives.
With the holidays upon us, Sandra is mostly worried about providing a memorable holiday meal for her children. She can't afford a turkey or the sides for a traditional Thanksgiving meal. 
"The holidays really throw us back too. These past two years because, you know, financially and then I have to buy the weeks' worth of food and then on top of that, the turkey, and dressing and all that stuff," Sandra said.
Fortunately, Sandra was able to sign up to receive a turkey and everything else she needed for a traditional Thanksgiving from one of the Food Bank's partner pantries. 
"I want to say thank you to everybody and we really, really appreciate it. Because if it wasn't for the help that we got today, then me and my family wouldn't be eating turkey on Thanksgiving," Sandra said.
The holidays are tough for families like Sandra's struggling to make ends meet. A tight budget shouldn't be a barrier to gathering around a full table this Thanksgiving. Thanks to PIMCO, you can make a difference this holiday season. Your most generous gift is TRIPLED, up to $45,000, to provide holiday meals. Donate today!