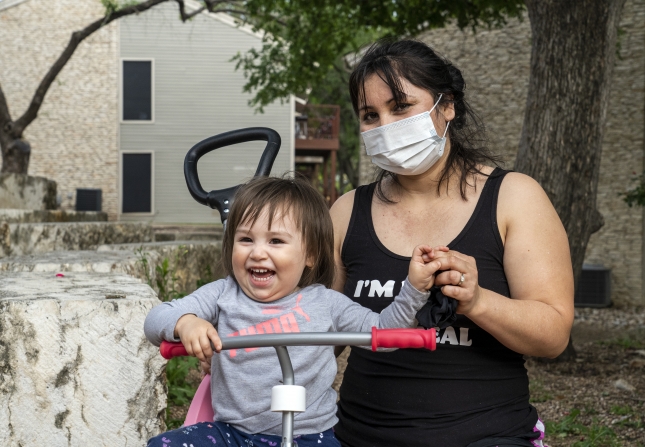 Blanca and her husband both work, but their hours have been cut due to the pandemic. Like many other working families, they live paycheck to paycheck. With four girls to look after, the couple has been struggling to make ends meet. 
"The truth is things are more expensive every single day, the rent, the food…we also have to pay for the babysitter and many other things. We practically don't have any money left over from our pay check," Blanca said.
Their budget just doesn't stretch enough to cover all their expenses. The family has fallen behind on rent and their bills, but they pay what they can with each paycheck.
"When we owe electricity, like right now, we pay what we can and when I get more money, then I pay the rest. The same with the water. I pay a portion and then I pay the rest. And like that," Blanca said.
Now that the kids are out of school and at home, Blanca is concerned about the electric bill rising. She hopes work starts to pick up again. 
With such a tight budget, Blanca worries about putting healthy food on the table. Her family has a history of problems with cholesterol, maintaining a healthy weight and high blood sugar levels. She doesn't want that for her daughters.
Fortunately, Blanca can save money on food and help her kids stay healthy by turning to the Food Bank's partner pantries. 
"Food is what we sometimes struggle with, so what I do is look online, sometimes churches are giving out food and I go to the churches and they give me free food and here too," Blanca said.
Blanca stops by the Food Bank's food distribution at her apartments to pick up a box filled with produce, protein and staples—everything she needs to cook her family nourishing meals.
Thanks to the Food Bank, Blanca doesn't have to worry about her children's next meal and she can focus on enjoying the summer with her family. She's looking forward to taking her children to the park, and playing cards and bingo with her kids. 
"The truth is that when they give a little bit of what they have, God will duplicate that because they know that there's people who really need it. And thank you," Blanca said.
After more than a year of struggling through a pandemic, families like Blanca's need your help for a shot at a happy summer. Thanks to The Roomie Group, your most generous summer gift will be MATCHED, up to $300,000! Fight summer hunger today!