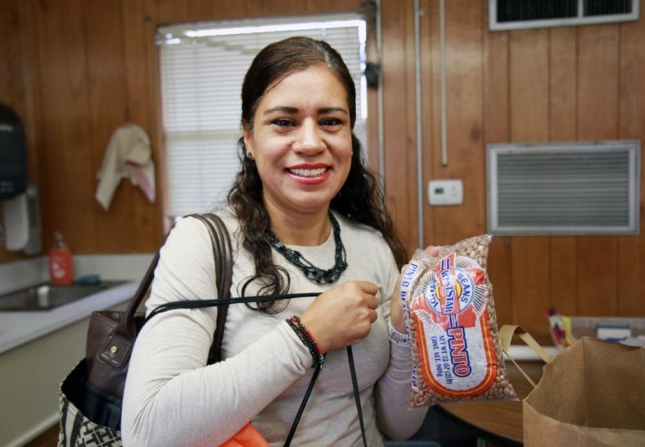 Alejandra and her husband regularly keep an eye out on the weather. With two growing sons to raise, a 7-year-old and 4-year-old, the couple worries about rain in the forecast.
When it rains, it means her husband is out of work.
"My husband is a painter, a house painter, but you know, sometimes the weather doesn't help," Alejandra said. "He's had more or less work, but there have been times he doesn't."
Alejandra stays home to care for her youngest son who has a speech disability. Between his speech therapies and special classes, it's hard to find a job that fits her schedule.
With only one income supporting their family, it's barely enough to keep a roof over their heads and keep the utilities on. When Alejandra's husband's paycheck is short due to the weather, it puts the family in a bind.
Though the family receives SNAP benefits, they often run out before the end of the month. To ensure her family has food on the table, Alejandra turns to the Food Bank.
"I dare to say that I need these food banks to be able to alleviate the needs of my family," Alejandra said.
Her nearby pantry is located right behind her son's school. After dropping him off, she makes her way to the food distribution where she receives enough food to keep her pantry stocked with staples, protein and fresh produce.
The money she saves by going to the pantry helps cover other expenses
"I receive the basics. The truth is it's very complete groceries. For example I have not bought rice or beans. I use the canned food like tomato sauce, some vegetables. The other time they gave us bread —and that helped me a lot—cereal, potatoes, and cucumbers," Alejandra said. "It's really good as long as one knows how to take advantage of it, and honestly it is helping me a lot."
Though the holidays are around the corner, Alejandra is more concerned about staying on budget. The family plans to have simple holiday celebrations. For now, they're just grateful to have food on the table, thanks to the Food Bank and our supporters.