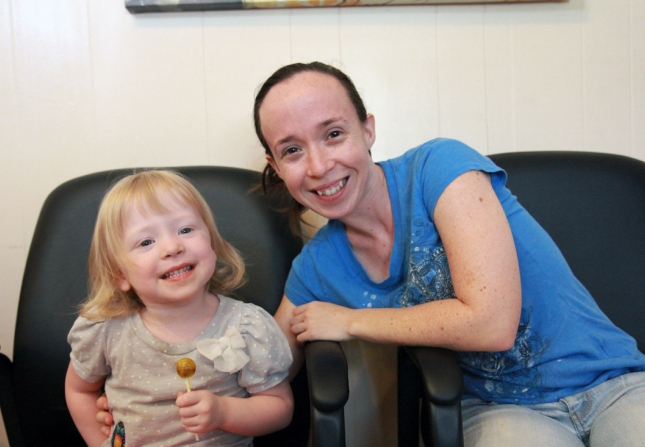 When two-year-old Sophia talks, it's hard to understand the toddler. She's still learning, but her mom Rosalind knows exactly what she's saying. She's Sophia's translator.
Rosalind spends her days taking care of Sophia and her five-year-old daughter, Cheyenne. Day care for two kids is too expensive for the family, so Rosalind has decided to stay home with her daughters.
"With a growing family, child care's expensive. We're trying to work out a different situation, but right now we're just a one income family and the dad works a lot," Rosalind said.
Her husband works full time in a nursery. From time to time, he's able to bring home plants his employer isn't able to sell to customers. For the family that means food they can grow to help supplement some of their produce.
"Earlier in the summer, it was so many okra. Which was fun. Cheyenne likes to eat right when we go and pick them. She'll wash them off and eat them," Rosalind said.
While Cheyenne loves eating the vegetables,wtih meals or simply as snacks, her younger sister Sophia can be more picky.
So far, the family has been able to plant tomatoes, okra and sweet and spicy peppers. Not only does the garden help with produce, but it is also a fun activity for the kids. With a tight budget, the family isn't able to go out and spend on family activities.
"We stay at home a lot. We go out and do some stuff but when you're on a budget you don't really get to go out and do fun things so you try to find interesting things to do at home," Rosalind said.
With Rosalind's husband being the sole provider for the family, it's not enough. The family is barely able to cover their rent, utilities and other expenses. From time to time, Rosalind's mother helps the family when she can.
Thanks to the Food Bank's pantry partner Hill Country Ministries, Rosalind knows there's one thing she doesn't have to worry about: food.
"It's nice when you got kids at home not to have to worry about food because it's one thing, as a mom, you don't want your kids to be hungry," Rosalind said.
The family has been getting help at the pantry the past couple of months and Rosalind has been able to keep her pantry and refrigerator stocked with food for the family. At the pantry she gets staples, frozen protein and the fresh vegetables and fruit her kids love.
"Getting that little extra food is just something we don't have to worry about, when it comes to trying to pay all the other bills…it's nice to not to have to worry about food, you know, it's just one of the necessities so it's really nice to not have to worry about it," she said.
This holiday season is even more special for the family. Rosalind is receiving a turkey from the pantry for the holidays. She's excited to cook the turkey for Christmas, make cookies with her kids and make memorable memories with her family.
"You already have to worry about how you're going to get some presents, at least a little bit of something. [The] turkey, it's nice to have… Have everybody be able to enjoy it. They love turkey too. It's just comforting," Rosalind said.
The holidays can be tough for families like Rosalind's, but you can help make the holidays extra special. Thanks to a $150,000 matching challenge by the Beaumont Foundation and a local Austin family, your gift will be doubled through December 31. This holiday season, feel good again by making a gift to the Food Bank.