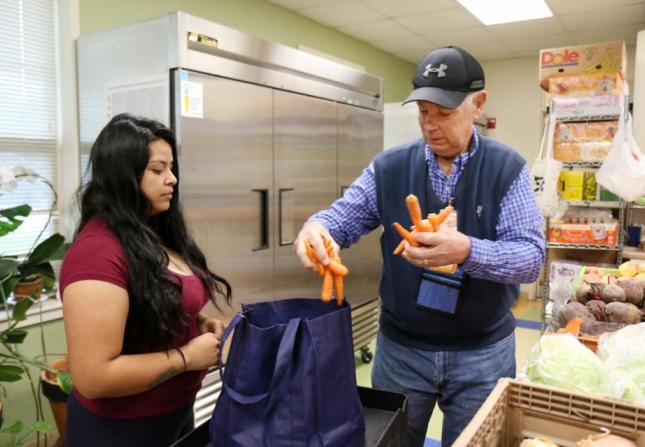 When clients walk into El Buen Samaritano's pantry, the first thing they see is a large display of produce. While they shop in the dry foods area, most of the shelves include a tag with basic nutrition information for the food items there.
The merchandising setup at the pantry isn't accidental. The Food Bank's Partner Agency is one of the pantries participating in the Food Bank's program called Healthy Pantry Initiative (HPI).
"The most important thing for us is to offer more fresh produce to our clients and we encourage our clients to eat more healthy," Rosa Caroll, El Buen Samaritano basic needs coordinator, said.
We understand that hunger and health are deeply connected. That's why we have implemented HPI to make the healthy choice the easy choice for clients. 
The goal of the program is to expand the capacity of health-focused partners, so that we can increase produce distribution and other foods to encourage by giving clients the knowledge and tools needed to select and enjoy healthy food.
We began piloting the program in 2016 with five Partner Agencies. After a year of evaluation and feedback from the participating partners, we have expanded the program to include 20 Partner Agencies across our service territory and are working with them to implement strategies to help them become a healthier pantry.
As part of the program, we encourage pantries to provide a variety of fresh produce, whole grains and lean proteins. Additionally, we recommend that they establish a nutrition policy on the types of foods they distribute to help them stay aligned with their goals of being a healthy pantry.
Some changes are even more subtle.  By making small modifications to the pantry, we can encourage clients to choose healthy foods. Something as simple as putting produce in attractive baskets or displaying healthy food items at eye level, or adding nutrition tags near the food, can help clients make healthy choices while they visit the pantry.
Maria, a client at the pantry, has taken notice of the tags. She is undergoing medical treatment and her doctor has recommended she lose weight. The tags have helped her choose healthier options while she's shopping at the pantry.
"Right now I'm in a process to lose weight and all the food they give you here, the majority of it is for that. It's nutritious. That really helps me," Maria said.
Additionally, the Food Bank will equip pantries with materials to highlight nutritious options, such as additional shelves, needed to implement any merchandising changes.
Before the program, El Buen Samaritano volunteers would prepare bags of produce for clients. Since implementing HPI strategies, produce is now the main display in the pantry and clients are able to choose the produce they want to take home.
"The clients love it. They like the way we set up everything. They love the produce area. I know that people are more excited to go that way," Rosa said.
To further expand the capacity of our partners, we are providing them with the knowledge they need to help clients make healthy choices. We are training pantry staff and their volunteers on basic nutrition education, so they can provide information to clients on the health benefits of produce and how to cook it at home.
They'll receive all the tools and equipment needed to do everything from 15 minute to one hour cooking demonstrations to making a complete recipe.
Since staying healthy is more than just eating, we're encouraging our partners to provide clients with additional health resources based on their capacity. It can be as easy as distributing informational health materials, to providing client referrals to health services, or even providing health services onsite, like screenings.
We're excited to work with the participating pantries on HPI to help families make healthy food choices.