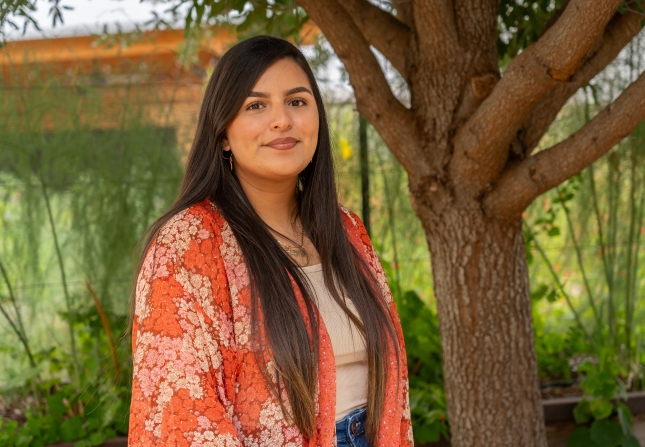 Lesly Montoya (she/her) has always had a passion for working with families and children. Initially studying biology at St. Edward's University, she discovered her love for social work and decided to pursue her bachelor's degree. Lesly's experience in trauma-informed care and working with individuals from diverse backgrounds ultimately led her to become a Benefits Assistance Coordinator at the Central Texas Food Bank.
As a Benefits Assistance Coordinator, Lesly is committed to shepherding our neighbors through their most vulnerable moments. Every day, she guides Central Texans through the sometimes tricky process of applying for available government benefits, such as food stamps, to connect them to the financial resources they need to thrive. Her approach to these interactions centers on treating neighbors like family and creating a safe, welcoming space. Lesly appreciates opportunities to hear each person's unique story, and her exceptional ability to foster a sense of trust and familiarity helps neighbors feel at ease and comfortable in her presence.
Lesly's work goes beyond simply submitting benefit applications. She emphasizes the importance of building ongoing relationships with neighbors through the Food Bank's Referral Partner Program, which connects Central Texans with resources beyond what the Food Bank can offer, such as bus passes and housing assistance. Through this program, the Benefits and Emergency Services team provides ongoing support, help with documentation, and problem-solving when neighbors need it most. One of Lesly's proudest moments was when the Central Texas Food Bank's Referral Partner Program was recognized for its outstanding work at a Feeding Texas conference, highlighting Lesly and her colleagues' positive impact on our community.
Employees like Lesly are essential in our work to provide services that help end hunger in Central Texas. No matter the challenge, Lesly remains committed to building relationships that make tomorrow possible for Central Texans, one of the many reasons she is the Food Bank's Team Member of the Month.
Need help? Click here to learn more about applying for food stamps and other government benefits with the help of a Central Texas Food Bank team member.