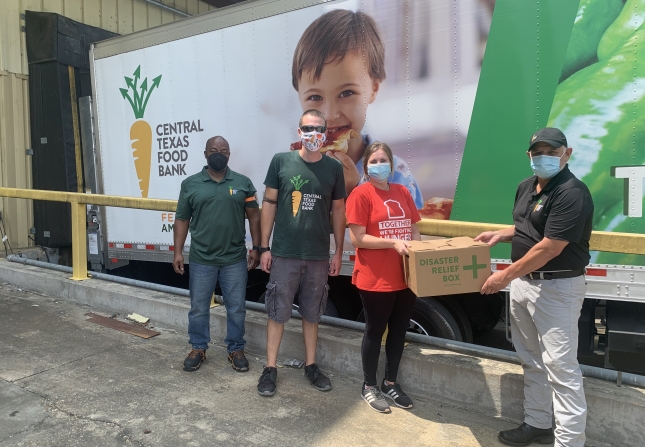 Two weeks ago, Hurricane Ida made landfall in Louisiana and left catastrophic damage in its wake. The category 4 hurricane destroyed homes, left widespread power outages and flooded large sections of the coast. As with any disaster, our network of food banks mobilized to assist families affected by the hurricane.
Image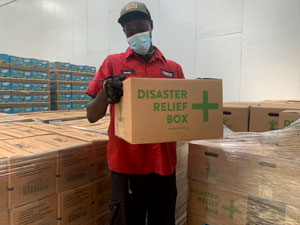 Feeding Louisiana and its member food banks—Second Harvest of Greater New Orleans and Acadiana and Greater Baton Rouge Food Bank—are on the ground distributing emergency food and supplies with the help from other food banks in Louisiana. They have distributed 3.1 million pounds of relief supplies, including 27,000 prepared meals via 392 distributions.
Though the Central Texas Food Bank is in the neighboring state, we couldn't just stand by. Our staff started preparing to provide disaster relief just as Ida was making its way to land. Our product recovery staff and volunteers shifted gears mid-day to pack hygiene kits and disaster relief boxes to aid relief efforts. Through the week, volunteers prepared disaster boxes in addition to helping us prepare our regular food for distribution.
Image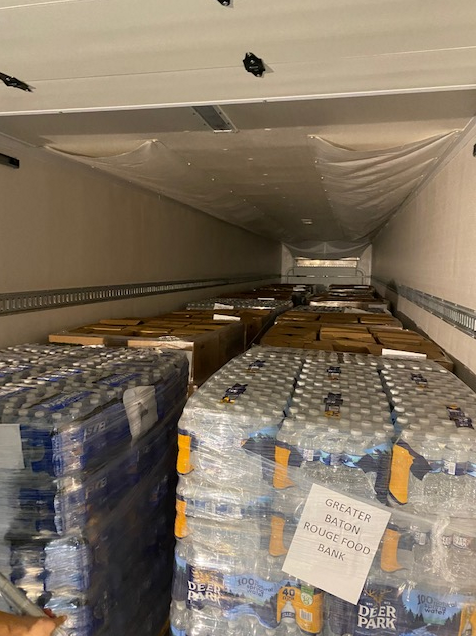 With help from our volunteers, we loaded two truckloads with pallets of emergency food and water. Our staff made the seven-hour trip to deliver the supplies to the Baton Rouge Food Bank and provide help on the ground. Additionally, we provided our sister food bank with a refrigerated truck. Locally, we partnered with the Red Cross to help with their relief efforts by providing snacks.   
As our neighbors in Louisiana slowly recover from this disaster, we will continue to help with emergency supplies. We're partnering with the San Antonio Food Bank and the Tarrant Area Food Bank to deliver 10 truckloads of water to Louisiana in the coming weeks. 
It's amazing to see our sister food banks coming together to help each other when it's needed most. Members of Feeding Texas, Feeding Florida and other food banks are stepping up to provide needed supplies. So far, Feeding America food banks have provided 95 truckloads representing 3 million pounds of food, water and supplies to help with the hurricane relief efforts. Together, we'll help our neighbors recover from this disaster.