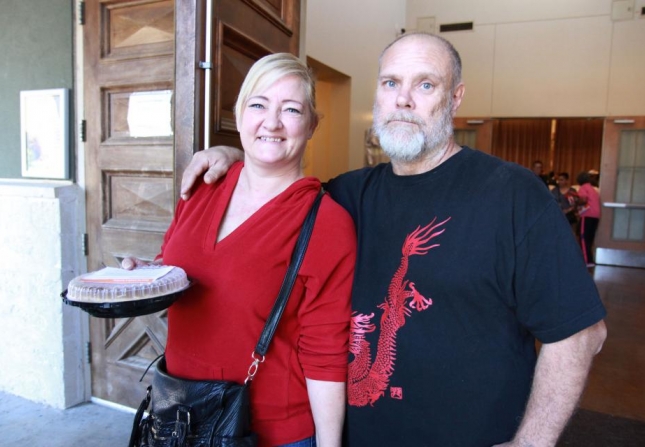 Amy and Wayne are two of nearly a thousand individuals in line waiting to receive a full Thanksgiving meal from their local food pantry. In their hand, they hold a slip of paper with the number 511.
Though it's a cold morning, the couple patiently and happily waits for their turn to come up.
A lot has changed within the past year for the family. The couple has gone from being homeless to having a place of their own.
Recently, the family has been having a tough time making ends meet. For them, family comes first. When Wayne's mother became ill, Amy quit her job as a medical assistant and put her skills to work at home taking care of her mother-in-law who suffers from dementia and needs around the clock care.
On a good day, her mother-in-law wants to get up to drink coffee, but on a tough day, she can't remember where she lives and Amy has to drive her around the block to help jog her memory.   
"Working with a dementia patient has been a great challenge. We do what we have to do, you know? That's our family, and it's important to us that she has the best care," Amy said. "We wouldn't put her in a home, so any way we can make her feel as comfortable as she can not only benefits us but benefits her."
In addition to helping care for her mother-in-law, Amy also helps care for her father-in-law who is 83 and can't do as much as he used to.
The family's income became even more strained when Wayne suffered an injury at work that damaged one of the disks in his back.
"I was moving a refrigerator out of a house and it fell down on me. It messed up my leg real bad and my back," Wayne said.
With his injuries, Wayne was no longer able to work after the accident. Without any income coming into the household and Thanksgiving coming up, Wayne and Amy decided to turn to the Food Bank's Partner Agency, El Buen Samaritano, for help.
The couple received a turkey, a pie, and everything else they needed to make a traditional Thanksgiving meal. It was going to be a very special Thanksgiving. For the first time in years, their family—son, daughter, parents, brothers and more—would be coming together to share this special holiday meal. Amy would be doing the cooking for about 15 people.
"A lot of people are really grateful and are blessed because if it wasn't for y'all, this wouldn't be here. So I thank everybody that participated and that made this possible," Amy said.
Thanks to our supporters, we're able to provide hope for the holidays for families like Amy and Wayne. For the Food Bank, the holiday season is crucial. The need is even higher, but you can help.
Thanks to some very generous matching donors, every dollar donated from now through December 31st will help us provide 8 meals to families struggling to make ends meet. No one should go hungry, especially during the holidays. Give today and provide hope for the holidays!