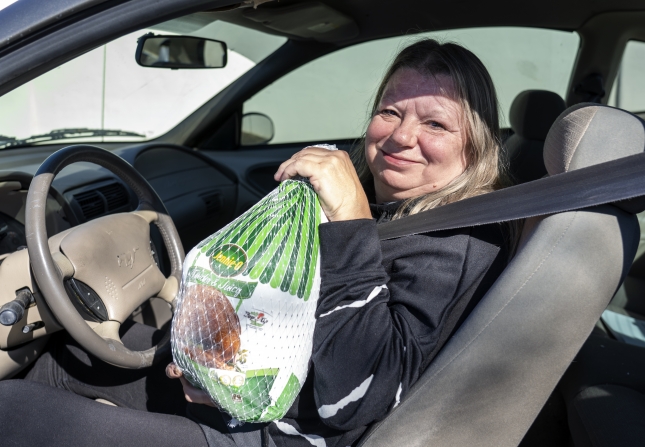 After a vacation in Texas, Cynthia wasn't expecting to call the Lone Star state her new home. She fell in love with the state, especially with the tranquility that surrounded her. She left New Jersey for warmer weather in Fredericksburg, Texas.
Cynthia and her boyfriend decided to start fresh and move in together. After finding an apartment, they have slowly been trying to furnish it. They both live on a fixed income, but it's barely enough to cover their expenses, let alone purchase additional items for their new home. 
To help stretch their budget, Cynthia began looking for work, but her job hunt came to an abrupt end. After being cancer free for seven years, her boyfriend was diagnosed with a new cancer in his lungs and pelvis. And the doctors let him know that he had 12 to 18 months left. Cynthia decided to stay home to look after him while he undergoes his treatment.
"He's on disability and I'm on Social Security. I mean, that's not enough to pay for anything, you know? And I was going to go back to work, but I need to keep an eye on him now," Cynthia said.
With a stimulus check they received in the past, they were able to purchase an old car in cash to help them get around to the doctor appointments. 
The unexpected news and the co-pay expenses for the treatment has put their Thanksgiving plans on hold. The couple was hoping to get together with family for a traditional Thanksgiving meal, but that might not happen. Cynthia's boyfriend has undergone his first treatment and is recovering from it. 
Thanks to the Food Bank, Cynthia will have turkey to cook for Thanksgiving. Even if they're not able to get together with the whole family, it means a lot to Cynthia to still be able to give her boyfriend a Thanksgiving meal at home and to have leftovers for the next few days.
While the turkey is a great surprise for Cynthia, she's also grateful for the fresh fruits and vegetables she receives at the distribution, especially as she focuses on making healthy meals for her boyfriend. With the produce she receives, she makes a "Cynthia salad", as her boyfriend calls it. 
"Oh my God, I just got to say thank you. I can cry. I can't believe how nice everybody's been down here and helping us out with food," Cynthia said.