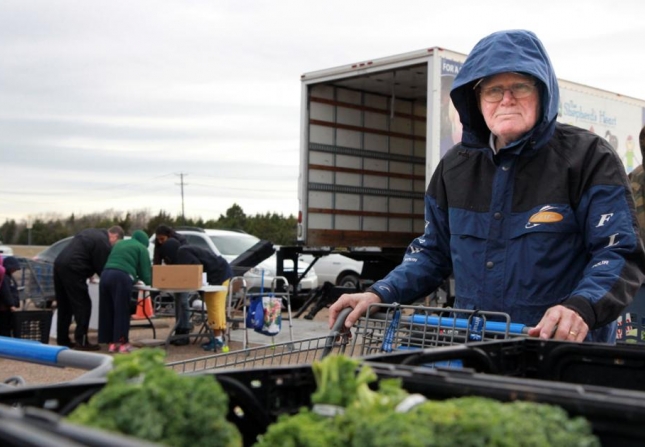 Despite the rain and cold, Ernest made his way to the Food Bank's Mobile Food Pantry. His wife was counting on him to bring back food for the family.
The retired couple lives on a fixed income and it can be hard to afford food with their extensive medical expenses.
Ernest suffers from Parkinson's, COPD, and early signs of dementia. Additionally, his wife had back surgery several years ago where she got plates all the way down her back. She continues to receive medical assistance for her back pain, in addition to getting care for her fibromyalgia.
With all their health issues, the couple spends about $700 a month on medical expenses. However, when an unexpected health problem arises, food takes a backseat to the medicine they need to purchase.
"At times I've had to get extra medicine, antibiotics and stuff because I have a tendency to get pneumonia, because I have a problem with food getting into my lungs. I have to get extra medicine to take care of that and it cuts me short on money," Ernest said.
The couple keeps a tight budget and only spends on what they need. When Ernest saw an announcement about the Mobile Food Pantry distribution at Texas State Technical College in Waco in his local paper, he knew he had to attend.
"We get nutritious food without having to spend a lot of money on food.  It allows us to pay on our bills better, meet other expenses, and pay for our prescription drugs," Ernest said. "My wife is diabetic and I have a tendency to get hypoglycemia, so we have to watch what we eat."
At the distribution, Ernest is able to fill a grocery food cart with milk, rice, juice, canned fruits and vegetables, chicken, cereal and fresh fruits and vegetables — nourishing food to help manage their health problems.
Without help from the Food Bank, the family's meals would be skimpy and they would have to settle for mac and cheese, Ernest said.
Despite waiting in the cold to go through the distribution line, Ernest is grateful for all the help.
"We really appreciate it and just keep up the good work," he said.