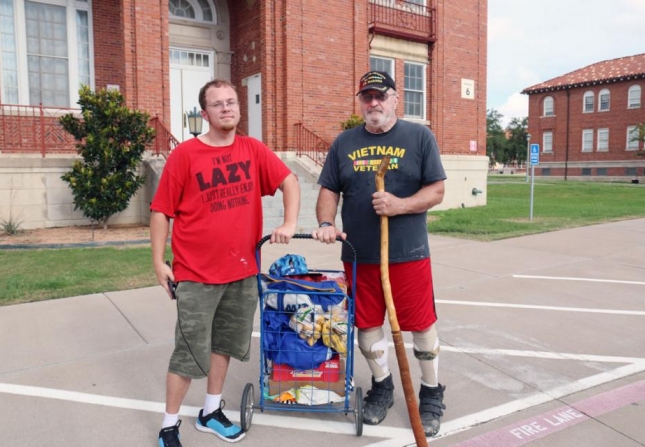 Fifty-two years after serving in  the Vietnam War, John still feels the effects from the day that completely changed his life.
October 11, 1967.
"I was on ambush patrol. A group of Viet Cong attacked our company. They ran off, and we were sent to follow. As we were approaching, a group of three — one woman, two men —threw a grenade. It landed about three feet from me," John said.
Since then, John has been disabled. One of his nerves was severed, causing him to lose motion in his foot.
"I went from [being] a totally healthy man to a disabled man in an instant. I didn't know how to be disabled. I had no concept of being disabled and nobody was able to tell me how. I did the best I could do," he said.
Despite his disability and not getting care for his PTSD until 1993, John went back to college for a nursing degree. He practiced critical care in nursing for 20 years.
Though it's been years since his injury, it has begun affecting the mobility of his other foot. It's hard for the veteran to walk. After working for years, John is now on a fixed income and relies on his disability benefits to make ends meet. Unfortunately, it's not enough.
During one of his appointments at the Veterans Benefits Administration office in Waco, John saw a flier for the Food Bank's pop-up food distribution in the parking lot of the VA. It was a food distribution for veterans only.
John is part of the thousands of veterans in the Food Bank's 21 county service territory. Twenty-five percent of the households the Food Bank serves include a veteran.
Since 2017, the Food Bank has partnered with Feeding America and the VA to provide food assistance to the men and women who have served this country. Since then, we have established veteran-only Mobile Food Pantry distributions at VA facilities in Austin, Waco and Temple.
Once a month, veterans like John can take home pantry staples, protein, and fresh produce to help them stay healthy.
"I think it's great that you do this. There are many veterans that came through today that otherwise wouldn't have a meal," John said.
On the day of the distribution, John enlisted help from his step-son Jarred to help carry his groceries home for himself and his wife.
"People that donate to you, they care about veterans as well and we're grateful, very grateful," John said.