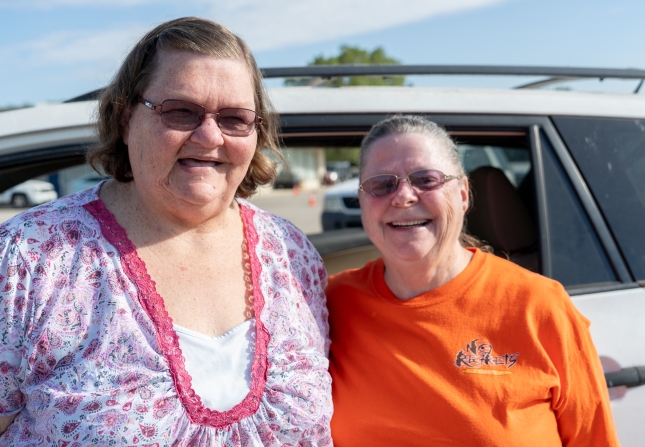 About three months ago, Dixie's cousin Kathy brought her to the Food Bank's mobile pantry distribution in Bartlett. The two are cousins, but more like sisters because they are so close. They rely on each other for support and help one another through it all.
While Dixie is newer to the Food Bank, Kathy started coming about two years ago. "I'm on a limited income," Kathy says (pictured above, right). "It helps with my food bill a lot because I don't always have money to buy food." Retired in part due to her health, Kathy has not only groceries to worry about, but medications as well, after suffering no less than five heart attacks. Still, she keeps a positive outlook on life. "I'm a walking testimony," she shares. "God is good to me. He's not calling me home till my work is done."
While Kathy has no immediate family, she relies on the familial support of her cousins, including Dixie (pictured left). "They are my besties," Kathy says with a smile.
Dixie, too, is retired after several years working for Walmart. "My husband works," she says. "But the money we get, it just don't go very far anymore." This past year, they saw prices and expenses rise, including their health insurance. Support from the Food Bank helps them make ends meet and they always make sure to share with the rest of their family. "I have a daughter that has a big family," Dixie says. "If there is something I can't use in the food box, I give it to her so nothing goes to waste." Her daughter has a passion for cooking and always uses what she gets from her mom to feed those in her household. "She helps everybody she can."
The spirit of giving shines in Kathy and Dixie's families. "We've got to help each other out," says Kathy, while Dixie adds, "Yeah, that's what we do."