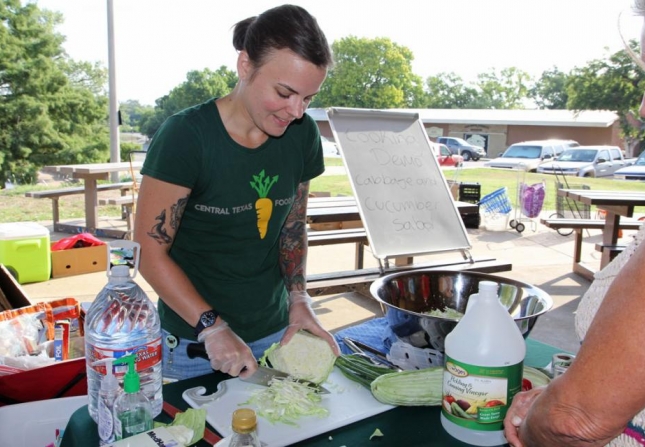 Thousands of pounds of food are loaded into the Food Bank's Mobile Food Pantry fleet each day. From staples to protein to fresh produce, a variety of foods is provided to thousands of families at distributions.
With such an array of food to choose from, not all families know what each item is or how to cook it. That's why our nutrition education team has expanded their efforts to conduct cooking demonstrations at Mobile Food Pantry sites to introduce families to different foods and recipes.
Our nutrition education classes take place in the greater Austin area, but having the cooking demos at Mobile Pantry sites allow our nutrition team to reach families in rural areas that don't have access to nutrition education. Each recipe made uses at least one ingredient that is being distributed that day at the Mobile Food Pantry site.
"It's a meaningful experience to the people at the Mobile Pantry," Mary Agnew, nutrition education manager, said. "It shows them that we remember they're out there and we care about their health, so we want to send the nutrition team, even if it's two hours away."
Since cabbages are available at many distributions, the nutrition team decided to start their new initiative with cabbage recipe at our recent San Saba Mobile Food Pantry distribution.
For the first cooking demo, our nutrition educator made a cucumber and cabbage salad before the distribution began. As the salad was made, the educator went through each step in the recipe. Afterwards, attendees received samples.
Ashley, a Food Bank client, and her kids were able to taste the salad. They really liked it.
"It was very refreshing and had a lot of different taste. It tasted really good," Ashley said. "[It's helpful] because my kids like it and it's healthier eating. We're trying to introduce our younger ones into healthier eating."
The mom is worried about her children's weight and how it could affect their health, especially since diabetes runs in her family. She is trying to change her children's eating habits by introducing them to healthier options. The cooking demo will help her do that.
With all the positive feedback we have received about the cooking demos, our nutrition team's goal is to have a demo at least once at each of our Mobile Food Pantry distributions.  The team conducts three to four cooking demos a month and has done up to twelve when nutrition classes are not scheduled.
The demos also allow clients to sample foods they might not be familiar with. By sampling it, they are more inclined to take the food home. While our nutrition educator is onsite, clients can also ask for tips on how to cook healthy food while they wait for the distribution to begin.
We're excited to be able to expand our nutrition education program to rural areas and to provide a better experience for families waiting to go through the Mobile Food Pantry line.