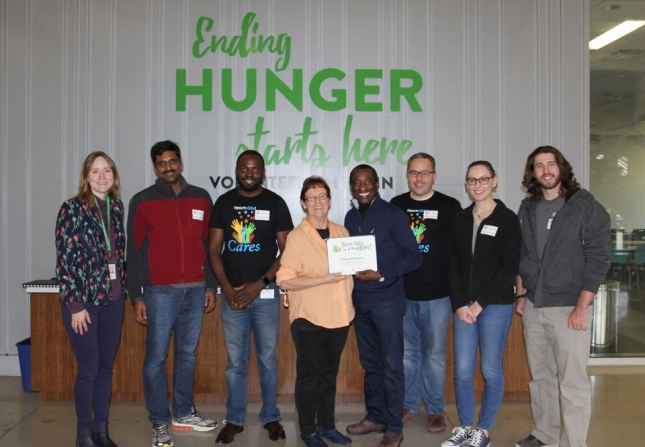 During each volunteer shift, our volunteers accomplish incredible work that helps make a difference in the lives of families in need. One of the volunteer groups that caught our eye recently is General Motors, and it wasn't just for the colorful hand designs on their t-shirts.
We would like to recognize General Motors (GM) as our Volunteer Group of the Quarter for going above and beyond in helping to fight hunger. Congratulations!
122 General Motors volunteers have helped us sort frozen food items, non-perishable dry food and put together stew bags for the families we serve. They have even helped us prepare disaster boxes benefiting families still recovering from Hurricane Harvey. To ensure that we are able to respond immediately when disaster strikes, GM helped us prepare additional disaster relief boxes that will be ready when another disaster hits.
This past quarter GM donated 366 volunteer hours and have donated a total of 891 hours this past year. During their time here, they have helped us provide 61,842 meals! That's incredible. Thank you, GM, for your extraordinary support.
While GM volunteers were busy in our warehouse, a new volunteer shined brighter than any appliance in our kitchen. We would like to recognize Dylan Pearce as our Volunteer of the Quarter. Congratulations Dylan!
Dylan came to the Food Bank in April. He had previously volunteered at the county sheriff's department working in victim advocacy, but it was difficult to cope with certain cases. He needed a change.
After learning that he would be working in 40 degree temperatures in our cooler, Dylan made the decision to start volunteering in our kitchen. A perfect switch for him, especially with the hot Texas summers.
"I enjoy it. I enjoy the cooler, dedicated 3 hours of not having to deal with the Texas heat in the summer. It's nice giving back in such a way that I don't have to worry about my long-term mental stability," Dylan said.
Though volunteering wasn't new to him. It would be his first time working in a large commercial kitchen. As he learned the ropes from our kitchen staff and Jim, a Kitchen Volunteer Leader, Dylan decided to also become one of our Kitchen Volunteer Leaders.
During his time here, Dylan has donated 370 hours of service and helps lead volunteer projects in the kitchen.
We are incredibly grateful for Dylan's dedication and passion to helping prepare meals for our Central Texas neighbors and for ensuring that the rest of our kitchen volunteers leave with a smile. Thank you, Dylan!