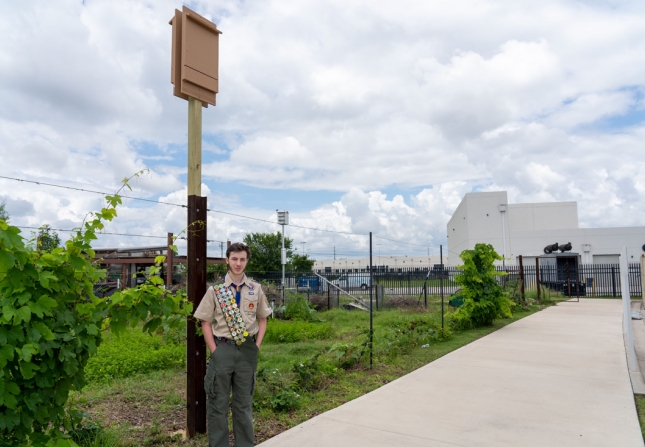 Nearly 300 bats can call the Food Bank their new home. There are two new bat houses and a purple martin house located in our garden, thanks to the hard work of 16-year-old Lee.
Lee and his family, have been helping us fight hunger since the Capital Area Food Bank days. After hearing, Greg, our garden manager,  was interested in having some birdhouses added to the garden area, Lee thought that sounded like a perfect spot to build new homes for bats and purple martins. The idea would become his Eagle Scout project.
"We've done a lot of service projects here before and I just thought it was a good spot to do it, since we've come here multiple times. I did some other Boy Scouts stuff here before. I've gotten my Citizenship in the Community Merit Badge and Family Merit Badge here," Lee said.
To get started with the project, Lee sketched and created a step-by-step work process to build the houses. He planned various volunteer shifts for his community to help build them. Before construction, he reached out to his family and friends to raise funds for the materials. His network helped him raise more than $500 more than he needed. Lee donated the rest of the money to the Food Bank to purchase signage for the new houses and to help fight hunger.
"That was not something I expected. I had a list of people I was going to call to ask to donate. And then the first few people I asked to donate were very generous, so then I had a lot of extra, a lot of leftover after I went through everybody," Lee said.
Once the funds were raised, Lee gathered all the tools and materials he needed. While working on the project, Lee learned how to drill a hole through metal and how to build different things. With COVID-19, Lee had to take extra precautions by creating a safety plan for his volunteers and having fewer volunteers per shift. 
"When we were building the bat houses, that was really fun. Not setting them up here, but when we were actually constructing them, that was cool because we had multiple people working on it , so that was fun to do."
Once the project was completed, Lee installed the houses onto metal posts in the garden, making them easier to move around if necessary.  He also included a pulley system, which would allow us to lower the houses to maintain and clean them. 210 hours of work later, bats and purple martins are ready to move in to their new homes at the Food Bank. 
We're so excited to have two bat houses and a purple martin house onsite. With the organic produce growing in our gardens, the bats will benefit us by helping control insects—bats can eat up to 8,000 insects at night. They create fertilizer through their bat guano and also help pollinate. 
The purple martins will also help control insects and as insectivores, they will not eat the plants or seeds in the garden.
Lee, congratulations on completing your Eagle Scout project. Thank you for installing this great addition to our garden. We can't wait to see our new neighbors move in.