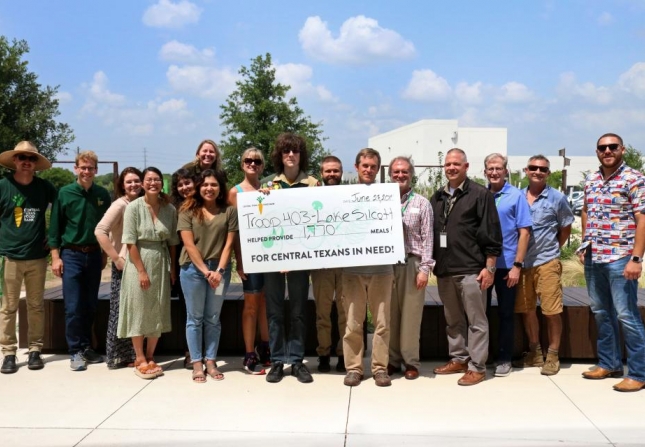 When the current Food Bank's doors opened in the summer of 2016, it included a community garden with an outdoor rest area with large, beautiful, wooden benches for our volunteers, staff and guests.
After three years of use and being exposed to the elements, the wooden benches had become dull and weathered.
Lake, a Boy Scout, took action. After volunteering at the Food Bank multiple times with his troop and learning about how the Food Bank fights hunger in our community, Lake wanted to help even more.
Taking on a service project for the Food Bank would also help him earn his community badge on his journey to becoming an Eagle Scout, the highest rank within the Boy Scouts.
"We've volunteered at the Food Bank for a while now with the Scouts and in our off time. It's a great project, we know some of the staff here and we just decided it would be a great cause for our Eagle Scout project," Lake said.
Our gardener Greg Mast recommended restoring our garden benches. With help from his family, Lake loaded four large benches onto a trailer to work on them offsite to minimize disruption to Food Bank operations.
Lake rounded up a team of Scouts, family and volunteers to work on the benches. They power washed them, painted them and stained them—restoring them to their original state.
"It definitely kind of tested and worked with the leadership skills that I've learned throughout my years in scouting. It is definitely my final project. All those leadership skills came together," Lake said.
To cover the costs of the materials needed to work on the benches, Lake started a fundraiser. He reached out to his neighbors, friends, family and troop for help. Together, they raised more than the cost needed for the restoration and donated the extra funds to the Food Bank, helping provide 1,770 meals for families in need.
"It feels good, being able to do something good and being able to get a lot of people's help," Lake said. "It's so nice and it's refreshing to see people work together for that kind of cause. It was amazing."
When Lake and his family arrived at the Food Bank with the benches, we were excited to see the transformation.
As our staff helped move the benches back into place, we couldn't help but admire the benches and how great they looked.
Thank you, Lake, for taking the lead on restoring the benches and everyone else who helped. We're grateful to have a beautiful rest area for our staff and guests.