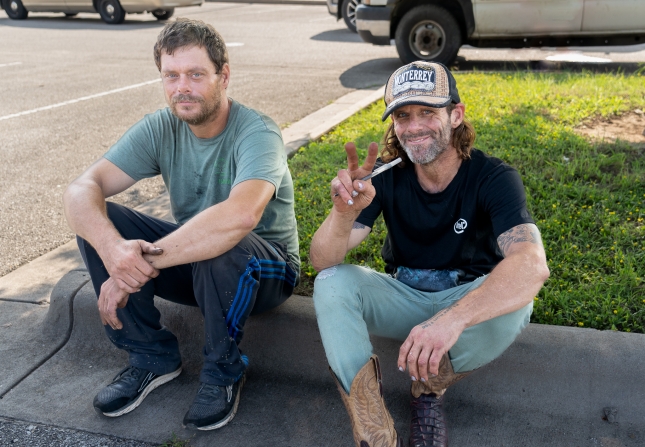 Ryan and Travis have only known each other for a few short months, but quickly grew close as they began to work together to help support one another and their community. "We've got a lot of friends out here," Travis shares. "You know, we try to help each other out."
For the last few years, Travis and Ryan have had to learn and adapt to life without a roof. After different, unfortunate events led to one thing and then another, each of them found himself experiencing homelessness in Austin. Since then, they have found support and strength in the unhoused community and in resources like the Central Texas Food Bank.
When it comes to coping with the unpredictable weather Austin often brings, Travis says, "It's just preparing, get everything prepared. [We're] grateful for the help that we get from people like y'all. It helps us a lot and we survive on it." Travis and Ryan use bicycles and a small cargo trailer they repaired to get to the Food Bank's mobile pantry distribution near their camp. Once there, they pick up fresh, nutritious food to bring back to the others in their camp. "You know, a lot of people don't realize how hard it is here, but it is, it's really hard. With the help that y'all bring...It brings us to the next day."
With the fresh produce and shelf-stable foods they get from the Food Bank, Ryan enjoys cooking fresh meals for his community. "I love to cook for lots of people," he shares with a smile. "I cook really good meals." His experience working in restaurant kitchens and the tools and resources they are able to gather allow Ryan to get creative and prepare healthy, delicious meals for everyone to enjoy.
One of the hardships they face, however, is the threat of wild animals and pests. "We fight the wildlife all the time," Travis says. Keeping their space clean is crucial, Ryan explains, and staying prepared to ward off any unwelcome visitors, like raccoons or possums.
When the opportunities arise, Ryan and Travis pick up work wherever they can. "I pick up anything I can get ahold of," Travis shares. "I'm a carpenter, I pick up side jobs. Every little bit helps." Ryan, who also works in carpentry, is able to pick up work from a friend who works as a remodeler. He also enjoys creating art around the city for others to enjoy, often using natural materials, like cedar roots as the inspiration for his pieces. "I started finding a lot of wood takes the shape of animals," Ryan explains. "So a lot of times, I'll take a little brown marble or I'll paint on it…then the person can really see it."
The two friends continue look out for each other's needs all the time. "I know he wears a size 12 shoe," Ryan says about Travis. "Shoes for him a hard to come by, so whenever I go out [and find a pair], I bring them back." Travis supports Ryan by bringing him materials for his artwork when he comes across dried flowers or bird feathers. "We all kind of do that for one another."
Though experiencing homelessness brings about impossible hardships, Ryan continues to focus on the positivity and encouragement he can bring to those around him. "You want to focus on the positive stuff."
If you want to help support neighbors like Ryan and Travis, you can double your impact when you give to the Central Texas Food Bank today.