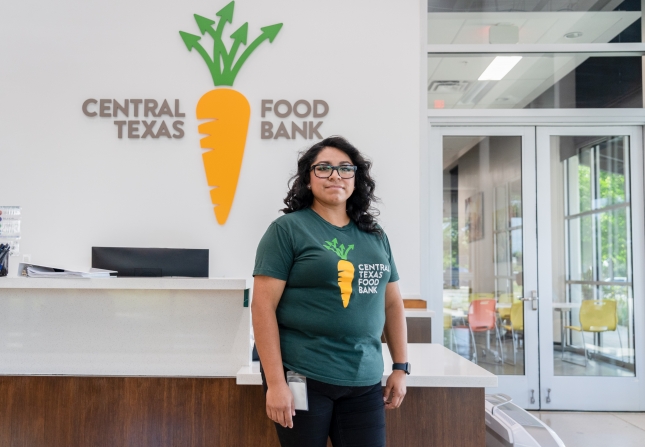 At the Central Texas Food Bank, Maite Hernandez (she/her) stands out as a dedicated and positive team member. Three months into her tenure as a Food Bank Custodian, she was named Team Member of the Month. Her willingness to embrace new challenges and constant pursuit of learning have quickly made her an asset to the organization.
Originally from Mexico City, Maite's journey took her to Chicago during high school before settling in Central Texas. After graduating from high school in Hays County, she adapted to her new environment's linguistic and cultural differences. With the support of a close friend, she mastered English within a year, showcasing her determination and aptitude for languages.
Maite's professional journey is marked by steadfast commitment. With 13 years of experience as a facilities manager, she developed expertise in managing various spaces such as event rentals, house builds and warehouses. Her dedication extended even when she took a break to be a stay-at-home mom, underlining her family values. When Maite chose to rejoin the workforce, she sought a family-friendly work environment that resonated with these principles, making the Central Texas Food Bank an excellent fit.
Maite's daily responsibilities at the Food Bank are dynamic and require diverse skills. Her role is multifaceted, from routine tasks such as inspecting coolers and freezers to responding to work orders. "You learn new things every day. You never stop learning," she shares.
For Maite, the Central Texas Food Bank represents more than just a job. The supportive atmosphere and collaborative ethos have made her feel at home. She appreciates the nonprofit nature of the organization, understanding that her contributions hold a meaningful impact on the community. Maite's journey exemplifies how a dedicated individual can amplify the Central Texas Food Bank's mission and make a tangible difference in the lives of those in need.
Maite Hernandez is the Food Bank's June 2023 Team Member of the Month. She enjoys building furniture, running and cooking noodles with her husband and three children.