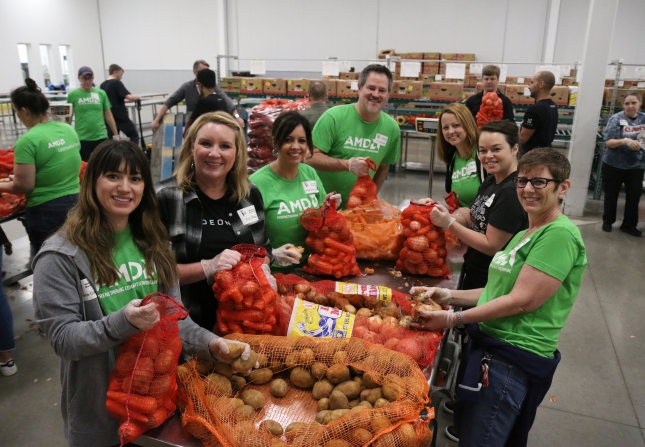 CORPORATE PARTNERSHIPS BUILD BETTER COMMUNITIES
In 1994, the Central Texas Food Bank, then known as the Capital Area Food Bank of Texas, broke ground on a state-of-the-art facility on South Congress Avenue in Austin. It was the first building in the nation constructed as a food bank at a time when other food banks were retrofitting existing warehouse space, and it set the stage for a future of innovation. While it was years before Austin would become the tech hub it is today, companies like AMD had already set up shop in the promising college town and helped fund this new facility. Over the course of three years, AMD contributed $190,000 to help make the new Food Bank location a reality.
The capital campaign was not AMD's first involvement with the Food Bank, a relationship stretching back farther than either company's records go, but it displayed their commitment to helping feed their community. When the Food Bank was founded in 1981, AMD had already been in Austin for a couple of years, and they became supporters soon after. Their gifts have helped fund general operations, support programs like Mobile Pantry, Kids Cafe® and Fresh Food for Families and helped see our community through disasters. By 2014, the Food Bank had outgrown the facility on South Congress and launched a second capital campaign. Once again AMD stepped up, pledging $50,000 to the new building. Overall, AMD and their employees have contributed more than a staggering $2 million in financial gifts to the Food Bank over the years, helping fund infrastructure and essential programs for the many Central Texans facing hunger.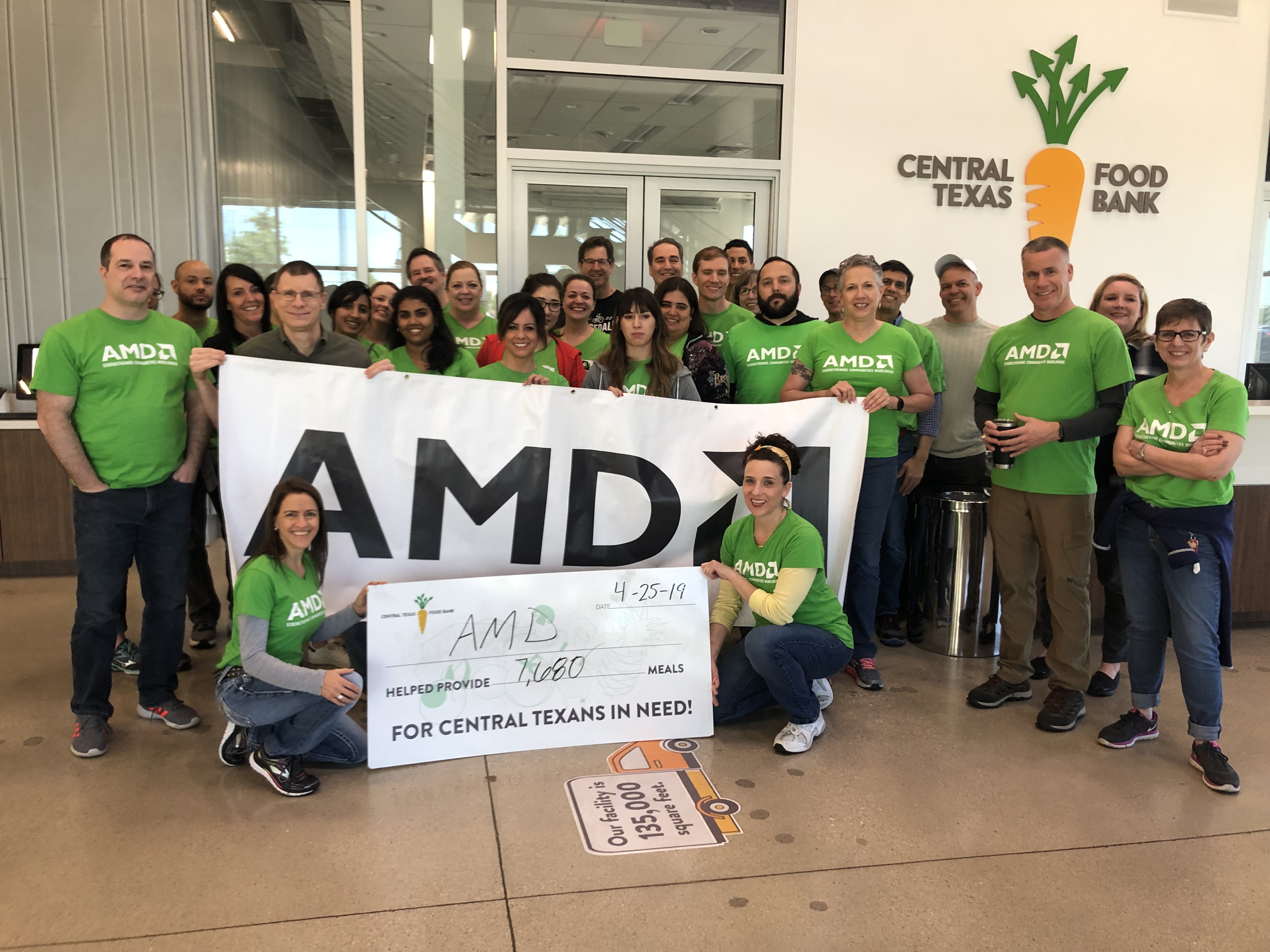 "It is so inspiring to look back on all we have been able to do together and imagine everything we can do in the future to make sure everyone in our community gets the food they need," says Amelia Long, Community Engagement Director for the Central Texas Food Bank. "Our relationship with AMD is a full-spectrum partnership that has continued for decades, engaged thousands of employees and created millions of meals for Central Texans in need. This is exactly what we hope for when partnering with a company, and we could not be more grateful for the amazing generosity AMD as a company and individual AMD employees have shown."
While many companies make financial gifts, relationships where the employees also get involved in the fight against hunger are especially important to the Food Bank. AMD employees have hosted food and fund drives as far back as 2005, feeding families during the holidays nearly every year since, and coming together during hurricanes, government furloughs and now, pandemics. Over the years they have dropped off 418,959 pounds of food. That alone adds up to approximately 350,000 meals and enough to feed a family of four three meals per day for nearly eighty years. Employee financial contributions have had an even greater impact, creating millions of meals for our neighbors in need, and yet, AMD's relationship is best recognized through their commitment to volunteerism.
In the last ten years alone, AMD volunteers have donated more than 4,500 hours of their time sorting donations in the warehouse, distributing food at mobile pantries and preparing meals in the kitchen. Many have become committed recurring volunteers. In fact, one of the two longest serving Food Bank volunteers started as a workplace volunteer with AMD. Cathy Roach, who recently retired from the company, has been coming back to the Food Bank for more than 20 years, and it all started with a shift with her AMD coworkers on Mother's Day weekend in 2000.
"I got started mainly because AMD did, and still does, encourage employees to give back to their community," Cathy says. "While I didn't have money to donate to non-profits at that time, volunteering was a good way for me to still contribute and support their work."
Cathy kept coming back to the Food Bank, and while she has volunteered with other organizations around town as well, the Food Bank continues to hold a special place in her heart. She is eager to return to volunteering post pandemic.
"I've always kind of been passionate about the fact that people shouldn't go to bed hungry at night. I don't know why because I never went to bed hungry at night," Cathy says. "Just seeing homeless people and little kids … it has just always been one of my passions."
What has made the relationship between AMD and the Central Texas Food Bank so successful for more than 35 years? Corporate partnerships are extremely beneficial, not only for the non-profits that rely on donations and volunteerism, but for the companies as well. In an increasingly socially conscious world, volunteer programs bring colleagues together, give teams purpose, provide networking opportunities, instill company pride, and are a key element of recruitment. AMD's University Relations department uses volunteerism to engage and connect college interns from around the world with the local community, and it is a motivator for talented graduates to sign on with AMD.
"At AMD, we place a high value on giving back with our time and resources. This not only strengthens the communities in which we live, but also strengthens our employees and teams, giving them ways to connect outside the office and gain perspective," notes Mark Papermaster, AMD CTO and EVP of Technology and Engineering. "Austin AMDers have rallied around the mission of the Central Texas Food Bank, and we are grateful for this long-term partnership."
For volunteers like Cathy, working with fellow AMDers helped her feel more connected to both the organization overall and individual staff, part of the reason she stayed on with the company for two decades.
"I got to meet other people within AMD that I probably would have never associated with because they were volunteering as well," Cathy recalls. "I can't say enough about AMD and their involvement in the community. They're a good corporate citizen – always have been and I hope always will be."
You need no further proof of how employees who volunteer are more committed to both their workplace and their community than AMD's response to the COVID-19 pandemic. Faced with tremendous need in their local communities and unable to volunteer while observing stay at home guidelines, AMD started an employee giving program to help in the time of crisis. Spurred by the company's 2:1 match, employees pitched in $147,662 dollars in just two months. Combined with the matching funds, the Food Bank received a donation of $442,986 in June – a critical time for much-needed funding as long lines continued snaking around food distributions all over Central Texas.
"We have really been blown away by support shown by the community during this unprecedented time," said Derrick Chubbs, president and CEO of the Central Texas Food Bank. "We've seen the need for our services explode over the last few months because of the COVID-19 pandemic. We're serving nearly double the number of people each week and donors like AMD are crucial in helping us meet that demand. Long-term partnerships like these are what make our mission possible and ensure Central Texans can always turn to the Food Bank in their time of need."
This outsized outpouring of support when it was needed most is the culmination of decades of working together. AMD has been there for the Central Texas Food Bank with donations large and small since the early 1980s. Though priorities and support have evolved over the years, AMD and the Food Bank remain committed to fighting hunger in the community. This ongoing level of support goes a long way for a small food bank that has had to rapidly expand to meet the needs in one of the fastest growing regions of the country. Long-term corporate partners help make the mission of the Central Texas Food Bank possible and help make our community a better home for everyone.
If you are interested in growing your company's relationship with the Food Bank please contact Amelia Long at along@centraltexasfoodbank.org.