Before You Start
The garden committee's first task is to build the physical garden. Before doing so, they must assess the identified space. It is best to build the garden in an area where it will be visible and accessible to the community. Sites that provide such exposure could be a park, neighborhood, community center, church, SNAP/WIC site, or any other convening space. Once an ideal space is identified, the committee will need to assess the viability of the land, its ability to sustain plant life, and its capacity to fulfill the needs of the garden program. These factors include but are not limited to:
Light availability
Soil health
Reliable water source
The cost of building the garden depends on what styles of gardening you incorporate into your program, the size of the garden, the structures you'd like to include (toolshed, greenhouse, etc.), and what materials you already have on hand.
For more detailed information about how to build garden, we recommend the following books and guides:
SFC Intro to Food Gardening
Texas Organic Vegetable Gardening by J. Howard Garrett & C. Malcom Beck
The No-Till Organic Vegetable Farm by Daniel Mays
The Market Gardener; A Successful Grower's Handbook by Jean-Martin Fortier
Edible Landscaping by Rosalind Creasy
How to Grow More Vegetables by John Jeavons
Native and Adaptive Landscaping Plants; an Earthwise guide for Central Texas by Texas AgriLife Extension
Sample Budgets And Planning Resources
Listed below is a sample budges for simple raised beds, as well as a design for a small garden (see fig. 7). The budget and plan does not include the space and materials needed for other structures, such as a tool shed. Simplicity is encouraged, but not required, in the initial stages of a garden program. Many garden programs assess community engagement and needs in the months following the garden's implementation, and then add other amenities as seen fit.
SAMPLE BUDGET FOR 3' x 8' RAISED BED VEGETABLE GARDEN (CEDAR)
ITEM
QTY PER BED
UNIT PRICE
TOTAL PER BED
Hose (Flexon 5/8in x 15ft Rubber & Vinyl)
1
$9.48
$9.48
Shovel (Project Source 45in Wood Handle)
1
$8.12
$8.12
Cedar 2X6X8 (ReliaBilt)
4
$30.98
$123.92
Cedar 2X6X12 (ReliaBilt)
1
$52.98
$52.98
Cedar 4X4X8 (ReliaBilt)
1
$35.98
$35.98
Screws (60 ct Power Pro #10 x 3-1/2-in Bronze Epoxy Flat Exterior Wood Screws)
1
$10.48
$10.48
Construction Angles (Simpson Strong-Tie 1.4in x 6.7in X 3.1in 16 Gauge G90 Galvanized Steel)
8
$2.98
$23.84
Soil (1 cubic ft Living Earth Organic Garden Soil)
18
$4.98
$89.64
TOTAL INSTALLATION COST
$354.44
SAMPLE BUDGET FOR 4' x 4' RAISED BED VEGETABLE GARDEN (TREATED WOOD)
ITEM
QTY PER BED
UNIT PRICE
TOTAL PER BED
Hose (Flexon 5/8in x 15ft Rubber & Vinyl)
1
$9.48
$9.48
Shovel (Project Source 45in Wood Handle)
1
$8.12
$8.12
Treated 2X8X8 Lumber (Severe Weather #2 Prime Pressure Treated Lumber)
4
$9.68
$38.72
Screws (60 ct Power Pro #10 x 3-1/2-in Bronze Epoxy Flat Exterior Wood Screws)
1
$10.48
$10.48
Soil (1 cubic ft Living Earth Organic Garden Soil)
12
$4.98
$59.76
TOTAL PER BED
$126.56
ANNUAL PLANTING AND MAINTENANCE
ITEM
QTY PER BED
UNIT PRICE
TOTAL PER BED
Seed Packets (Ferry-Morse, average price)
15
$1.96
$29.40
Fertilizer (6 lbs Jobe's Organics Vegetable Food)
1
$10.48
$10.48
ANNUAL PLANTING AND MAINTENANCE
$39.88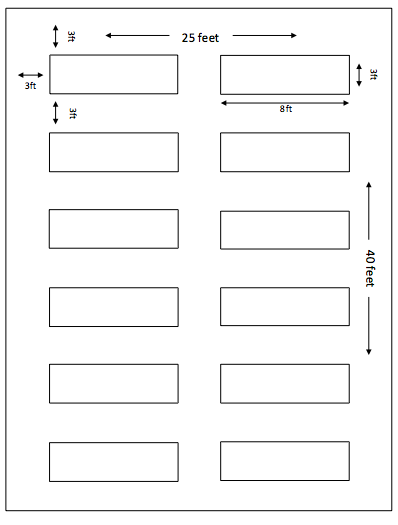 Fig. 7. Simple Raised Bed Garden Design
Resources For A Successful Garden
Each resource page includes links and insights into some of the key components that make a garden successful.
One of the most valuable resources a community garden can have is the community that surrounds it. Check out your surrounding High Schools, neighboring elementary schools, Boy Scout Groups, Girl Scout Groups, Café's, Restaurants and Churches. These organizations can help with volunteering, donations, and building relationships within your community.
Classes in the Community:
Non-profits in Austin area:
Online community:
City of Austin:
Community Gardens gain sustainability and power through dedicated leaders, thoughtful planning, and a mission reflected in the community's input. To meet the basic needs of a garden, it needs to be funded. Which can be one of the greatest challenges to face as a community garden. Here are some methods to raise funds for your garden.
Grants:
One of the most common initial tactics for funding a garden. There are plenty of state, private, corporate, municipal grants directed for small community projects.
Grants writing assistance:
Texas Grants Resource Center: Texas Grants Resource Center (TGRC) has served as a bridge between the grant-seeking and the grant-making communities. The TGRC is a unit within the Division of Diversity and Community Engagement (DDCE) at the University of Texas at Austin.
Austin Public Library: List of local organizations that help with grants, grants within Austin, and provides access to the Foundation Directory Online Professional database. This database provides descriptions on grant makers, foundations, corporate giving programs and charities
Austin Public Health: System for City of Austin Registered, non-profit, tax exempt partner organizations seeking grants
Grants manager at NPO: If your garden is in association with a pantry, church, or any other non-profit; they most likely already have a fulltime grant manger. Reach out to them for collaboration and advice.
Private Foundations: A private foundation is a legal entity that is set up for the sole purpose of doing charitable deeds. It's funding comes from a single person, family, or corporation.
Grants in Austin:
Rebates and free stuff:
Fundraising events:
Bake sales, car washes, yard sales, plant sales, walk-a-thons, dinners
Find an organization to partner with you in your community.
Direct Donations and Gifts:
Sponsor: Ask community members, businesses, organizations, churches to sponsor. Sponsor a tree, bench, garden bed, shed, ect.
How The Central Texas Food Bank Can Help
Send an inquiry to the Garden Manger, Greg Mast at garden@centraltexasfoodbank.org, about being a host site for the Central Texas Food Bank's 'Cooking from the Garden' and 'Intro to Organic Gardening' classes.