Goals And Garden Styles
The primary goals we just discussed feed into four basic styles of garden program. Use fig. 4 below to explore how each of the goals corresponds to a gardening style.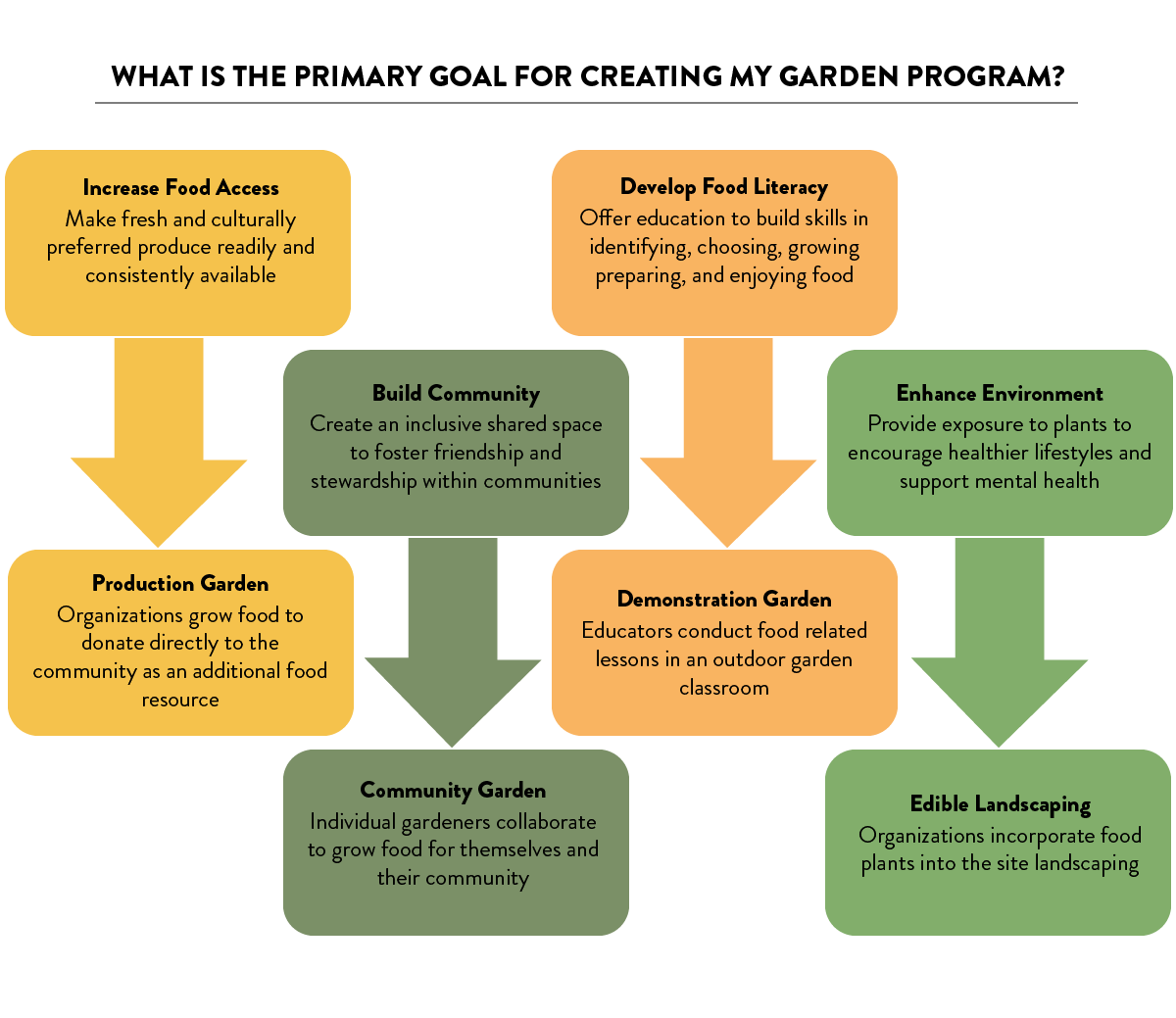 Fig. 4. Relationship Between Garden Program Goals and Styles
Food Access
Production Gardens improve health by making fresh, culturally preferred produce readily available within a community. These gardens grow food for direct donation to the community through a food pantry, acting as an additional source of fresh produce to supplement existing resources.
Physical description
Production gardens are larger scale, often with in-ground beds, and possibly an orchard. They require a large area of flat land with easy access to a water source and a tool shed. A green house or other space is necessary for propagation and a kitchen or fridge onsite is helpful for sustaining the freshness of the food before it is distributed to the community.
Organizational structure
Rather than being tended to by individuals for their own personal benefit, they are up kept by volunteers and/or staff. All produce is distributed via an established food pantry. In terms of budget, the cost per square foot of production gardens is relatively lower, but the overall costs can be substantial due to their large size.
Example gardens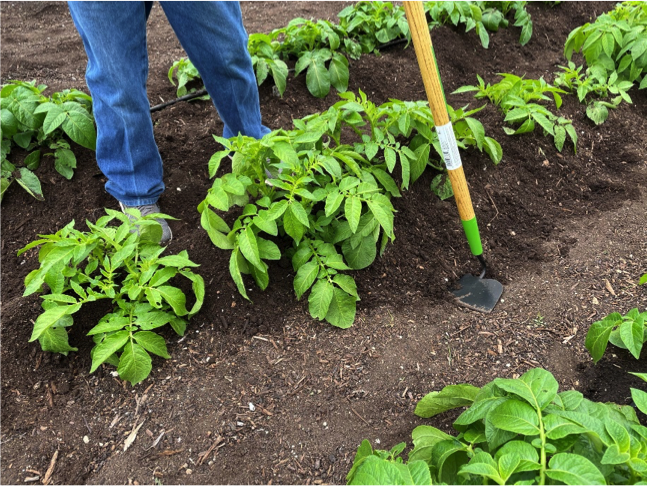 Killeen Municipal Court Garden
Community Building
As discussed, the all-encompassing definition of health includes that of the mental and spiritual well-being. Building community through gardening improves health by providing spaces for individuals congregate and collaborate, encouraging social networking. Communal connection through gardening creates a sense of stewardship and place-making for individuals while growing food for themselves and each other. A community of shared interest to garden participants, who maintain their beds individually and take home the produce of their own labor for personal benefit.
Physical description
Community Gardens are often located within or adjacent to a neighborhood. They can include individual beds and/or communal beds. Community Gardens generally provide access to tools, water, and space to its participants. There are often shared labor and responsibilities required to maintain communal areas, such as walkways and any greenery around the garden.
Organizational structure
In most cases, there are one or more volunteer garden leaders in charge of running the space. Garden participants typically must agree to a set of rules for the garden, including what types of growing practices are allowed, hours of access, prohibitions on taking other people's produce, and any labor requirements or workdays. While not all community gardens assess a monthly or annual fee, many do in order to offset the cost of running the garden. Schools, religious, and community organizations often host community gardens and cover the costs of running these spaces.
Example gardens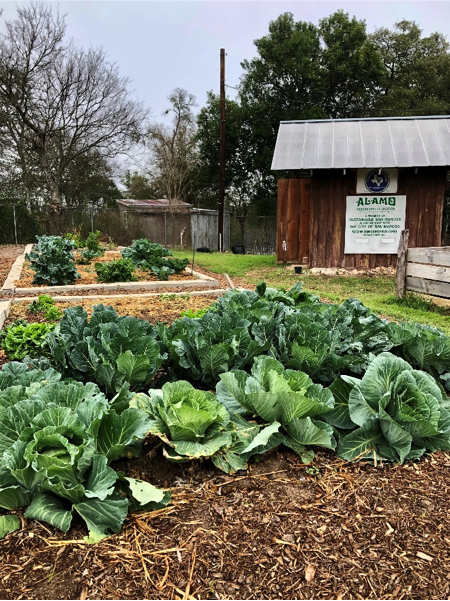 Alamo Community Garden SMTX
Food Literacy
Demonstration Gardens serve to offer educational resources for the community to increase familiarity with different foods and encourage creativity when interacting with their food. Developing food literacy improves health by building confidence within one's relationship to food through gaining a greater understanding of nutrition, gardening, cooking, shopping, food resource management, and food identification. Having the knowledge and skills to support enjoying a healthy diet subsequently supports the health of the community and environment.
Physical description
Demonstration gardens are typically located within existing gardens at food pantries. They are generally quite small, perhaps limited to a few containers, or a single garden bed. Demonstration gardens should be located in high traffic areas, to encourage visibility.
Organizational structure
The educational offerings of demonstration gardens are typically free of charge, but sometimes require fees to account for the cost of any materials used by participants. Texas AgriLife Master Gardeners, or similar organizations with their own curricula, such as Central Texas Food Bank, usually run them. The produce grown is used for the educational demonstrations, but can also be distributed to the community or class participants if well if there is excess. Despite their small size, demonstration gardens are more management and knowledge intensive because their food production must directly align with the educational needs. There is less room for error and crop failure in a demonstration garden, as the educational offerings can rely on the produce grown.
Example gardens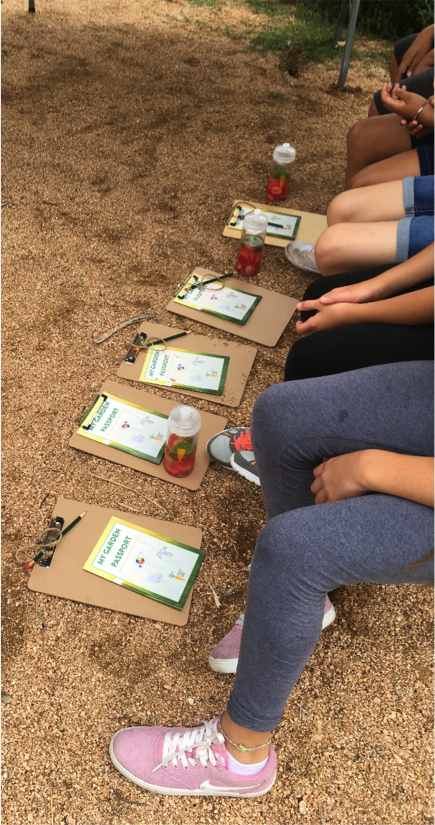 Central Texas Food Bank Garden Education
Environmental Enhancement
Landscaping that increases a community's exposure to edible plants, particularly in spaces where community members spend the most time, and especially at locations that individuals frequent for food assistance. Enhancing the physical environment can act as a horticultural therapy technique by providing opportunities for individuals to interact with nature. Being immersed in greenspaces not only improves mental health, but can also positively affect physical health. Edible Landscaping, especially at food pantries, provide exposure to food plants that can encourage physical activity and influence food choices.
Physical description
Edible landscapes feature edible plants in highly visible public spaces. Although the plants are edible, the primary focus is on appearance not production. As such, the spaces should appear healthy and abundant at all times, requiring consistent, skilled maintenance. Maintenance is generally done by an outside organization such as a specialized contractor. Edible landscapes should be designed to encourage exploration, and include prominent signage to identify plants and explain the purpose of the space.
Organizational structure
This type of garden is often located at institutions, and are particularly beneficial at food assistance sites, parks, or other outdoor gathering spaces (like a restaurant patio, for example). Garden maintenance is usually the responsibility of an outside party if funding allows, but can be taken on by staff at the site.
Example gardens
UT Campus Garden (food plants by art building)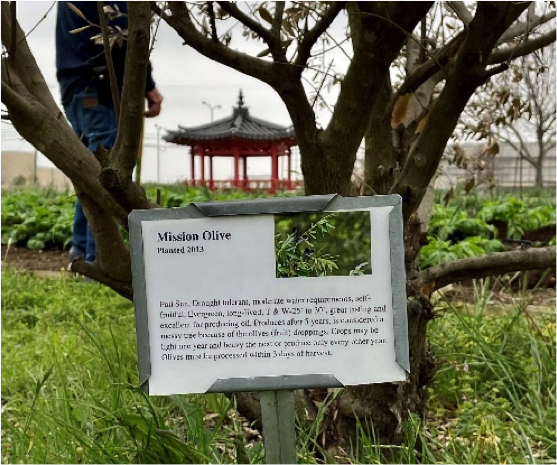 Killeen Municipal Court Garden