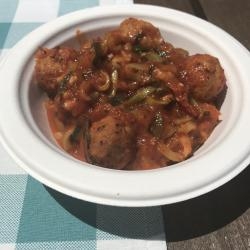 Ingredients
4 medium zucchini squash (about 2 pounds)
1 tablespoon extra-virgin olive oil
2 cloves of garlic, minced
½ teaspoon of Italian blend seasoning
¼ teaspoon of crushed red pepper (optional)
24 fully cooked frozen Turkey Meatballs
1-24 oz. jar spaghetti sauce, low sodium
PREPARATION
Trim the ends off the zucchini and use a spiralizer* to make the zucchini noodles. Cut extra-long noodles so they are about the length of spaghetti.
Heat oil in 5 quart pot over medium high. Add garlic and cook for a minute.
Add noodles and sauté for 3-4 minutes. Add Italian seasoning and crushed red pepper. Mix in and cover for 2-3 minutes.
Heat meatballs according to package directions.
Add heated meatballs and spaghetti sauce to the noodles and heat for 2-3 minutes.
*The spiralizer is not the only way to make zucchini noodles. You can use a julienne vegetable peeler or a mandolin. You can also use a standard vegetable peeler to make wide noodles or ribbons.
SOURCE
CHOICES Nutrition Education Program
Download the Recipe/Descargue la receta: