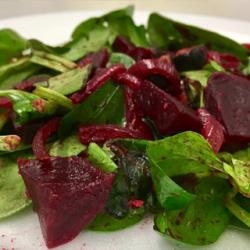 Ingredients
8 cups baby spinach
1 tablespoon extra-virgin olive oil
1 cup thinly sliced red onion
1 pint halved cherry tomatoes
1/4 cup sliced ripe olives
2 tablespoons chopped fresh parsley
1 garlic clove, minced
3 cups steamed beet wedges
3 tablespoons balsamic vinegar
1/4 teaspoon salt
1/4 teaspoon ground pepper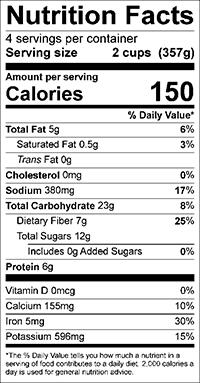 PREPARATION
Place spinach in a large bowl.
Heat olive oil in a large nonstick skillet over medium heat. Add onion and cook for about 2 minutes or until softened.  
Add tomatoes, olives, parsley, garlics, and stir for about 3 minutes or until the tomatoes begin to break down.
Add beets, vinegar, salt, and pepper and cook until beets are heated through, about 1 minute.
Add the beet mixture to the spinach and toss to combine. Serve warm.
How to Prep & Cook Beets: Trim greens and root end; peel the skin with a potato peeler. Cut beets into small cubes, wedges, or slices.
To cook on the stovetop: Place water and beets in a large pot. Cover and boil over high heat until tender.
To cook in the microwave: Place in a glass baking dish, add water, and microwave on high for 8-10 minutes or until tender.
SOURCE
Eating Well Magazine—Recipe modified by CHOICES Nutrition Education Program
Download the Recipe/Descargue la receta: