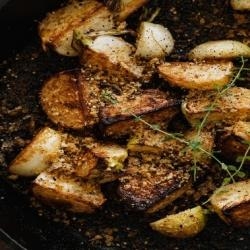 Ingredients
1 large turnip
1/4 cup Kalamata olives, minced
1 tbsp extra virgin olive oil
1 shallot, chopped
1 tsp dried oregano
1 tsp ground paprika
1 tsp ground cumin
2 tbsp ground mustard
2 tbsp balsamic vinegar
1/2 tbsp pepper to taste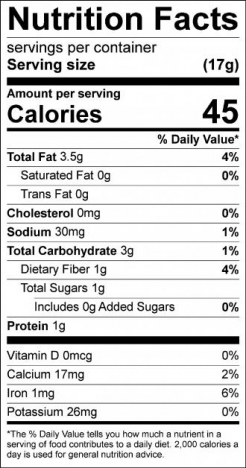 PREPARATION
Preheat oven at 435 F.
Rinse and dry turnips. Cut green leaves and place them on the side. Cut the turnip into slices. Peel skin if desired. 
In a bowl, toss turnip, Kalamata olives, and shallot with olive oil and seasonings. Add pepper to taste
Layer them in a baking sheet and cook at 435 F for 20 minutes.
Serve as a side dish. Enjoy!
Optional: garnish with parsley
SOURCE
https://www.thespruceeats.com/roasted-turnips-2217054
Recipe modified by CHOICES Nutrition Education Program            
Need meal ideas? Visit our recipe database! www.centraltexasfoodbank.org/recipes                                        
This institution is an equal opportunity provider.   Rev 3/20              
 This material was funded in part by USDA's Supplemental Nutrition Assistance Program – SNAP.
Download the Recipe/Descargue la receta: