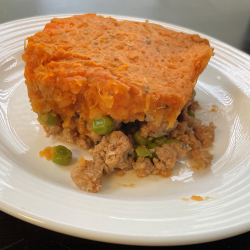 Ingredients
1 ½ lbs Sweet potatoes, peeled and chopped, 1 in cubes
1 tsp Italian seasoning blend
¼ tsp olive oil
½ cup medium Yellow Onion, diced
½ lb Turkey meat, ground, lean
1 Tbsp tomato paste
3 garlic cloves, minced
1 cup Beef broth
½ cup Frozen Peas
1 tsp salt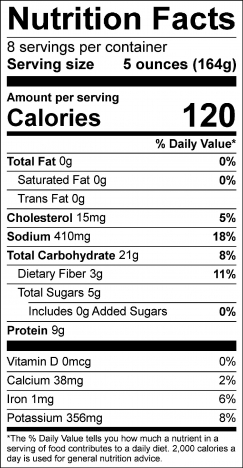 PREPARATION
Preheat oven to 375.
Place sweet potatoes in a large saucepan with just enough water to cover. Bring to a boil and cook until potatoes are tender, about 17 minutes. Drain and mash, then season with Italian seasoning blend.
Heat oil in a large nonstick pan over medium-high heat. Add onions and saute for 3 minutes. Stir in the garlic and cook for 1 minute.
Add the ground turkey and cook, crumbling with a wooden spoon, until meat is cooked through, approximately 7 minutes. Add salt.
Stir in the tomato paste and broth. Simmer for a few minutes until the liquid is reduced 10 minutes, then stir in the peas.
Spread the meat mixture into a 2-quart baking dish. Add mashed potatoes on top and spread it evenly all the way to the sides.
Bake for about 15 minutes, until potatoes are set and warm. Let dish rest, then cut into 8 servings. Serve and enjoy!
ADAPTED FROM
Healthyfitnessmeals.com
Recipe modified by CHOICES Nutrition Education Program
Download the Recipe/Descargue la receta: