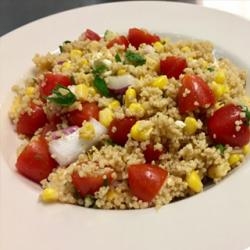 Ingredients
1 cup low-sodium chicken or vegetable broth
1 cup uncooked whole wheat couscous
1 can low-sodium corn, drained and rinsed
1 medium cucumber, halved and sliced
1 pint cherry or grape tomatoes, halved
½ cup feta cheese
¼ cup chopped red onion
3 tablespoons minced fresh parsley
3 tablespoons olive oil
3 tablespoons fresh lemon juice (about 2 lemons)
1 teaspoon dried oregano
¾ teaspoon of cumin
½ teaspoon salt
½ teaspoon ground black pepper
PREPARATION
In a small saucepan, bring broth to a boil. Stir in couscous. Remove from heat; cover and let stand for 5-10 minutes or until broth is absorbed. Fluff with fork and set aside to cool.
In a large bowl, combine the couscous, corn, cucumber, tomatoes, feta, red onion and parsley and mix until combined.
In a small bowl, whisk the oil, lemon juice and spices to make the dressing. Pour dressing over couscous mixture and toss to coat. Serve immediately or refrigerate until chilled.
SOURCE
http://www.tasteofhome.com/recipes/summer-garden-couscous-salad
Download the Recipe/Descargue la receta: