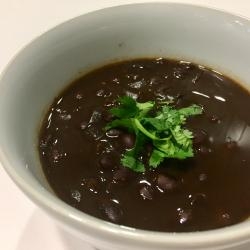 Ingredients
1 pound dry black beans (about 2 ½ cups)
1 tablespoon olive oil
3 cloves garlic, minced
1 medium yellow onion, diced
1 teaspoon cumin
½ teaspoon chili powder
½ teaspoon salt
8 cups low-sodium chicken or vegetable broth (or water)
Toppings
Cilantro, chopped (for garnish)
PREPARATION
In a medium skillet, heat 1 tablespoon olive oil over medium heat. Add garlic and sauté for about 1 minute, until brown but not burnt.
Add onion and sauté until translucent, about 5 minutes.
Add spices and sauté for another minute. Remove from heat.
Check beans for rocks and rinse thoroughly. Add them to slow cooker along with the onion mixture and broth. Cook on low for 8-10 hours.
SOURCE
fruitsandveggiesmorematters.org
Recipe modified by CHOICES Nutrition Education Program
Download the Recipe/Descargue la receta: