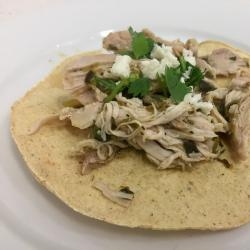 Ingredients
1 cup tomatillo salsa
2 poblano chiles, stemmed, seeded, and chopped
¼ teaspoon dried oregano
½ teaspoon salt
½ teaspoon pepper
3 lbs boneless skinless chicken thighs or breast*
¼ cup cilantro
2 tablespoons lime juice
PREPARATION
Combine salsa, poblanos, oregano, ¼ tsp salt, and ¼ tsp pepper in slow cooker.
Season chicken with remaining salt and pepper. Nestle chicken into slow cooker, covering slightly with salsa mixture. Cover and cook until chicken is tender, 4-5 hours on low.
Using tongs, break chicken into bite-size pieces. Stir in cilantro and lime juice.
Serve chicken filling with tortilla, tostada, or rice, and enjoy!
*Chicken thighs will produce a juicier recipe, another option is to use half breast and half thighs
SOURCE
Slow cooker Revolution Volume 2: The Easy Prep Edition
Recipe modified by CHOICES Nutrition Education Program
Download the Recipe/Descargue la receta: