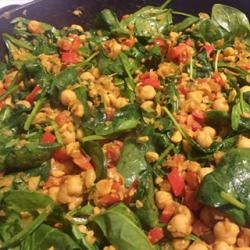 Ingredients
3 (15-ounce) cans low sodium garbanzo beans, drained and rinsed (or 4.5 cups cooked chickpeas)
1 tablespoon olive oil
3 cloves garlic, minced
1 medium yellow onion, chopped
1 medium red bell pepper, cored, seeded, and diced
1 teaspoon ground cumin
1 teaspoon onion powder
½ teaspoon chili powder
¼ teaspoon salt
4 cups raw spinach, roughly chopped
PREPARATION
Add half the chickpeas to a food processor or blender and pulse until broken down, but not pureed. (Alternatively, place in a large bowl and mash with fork.) Set aside.
Heat oil in a large skillet over medium heat. Add garlic and sauté for 1 minute.
Add the onion, stir to coat with oil, and cook until soft, about 5 minutes. Stir in the spices along with the bell pepper and cook until pepper is soft, about 5 minutes.
Add the mashed and whole chickpeas, stir to combine, and cook until they begin to soften, about 5 minutes. Stir in the spinach, cooking just until wilted, about 3 minutes. Remove pan from heat and enjoy!
ADAPTED FROM
http://www.thekitchn.com
Recipe modified by CHOICES Nutrition Education Program
Download the Recipe/Descargue la receta: