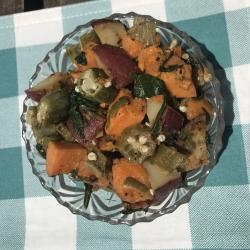 Ingredients
1.5 pounds sweet potatoes, peeled and cut into ½ inch cubes
½ pound red potatoes, scrubbed but not peeled and cut into ½ inch cubes
2 tablespoon extra-virgin olive oil
½ teaspoon salt
1 teaspoon ground pepper
6 ounces spinach, large stems discarded, leaves rinsed (8 cups packed)
1 pound small okra, thawed if frozen
¼ cup red wine vinegar
PREPARATION
Preheat oven to 350F. On a baking sheet, toss the red potatoes and sweet potato with 1 tablespoon of the olive oil and spread them in an even layer. Season with ¼ teaspoon salt and ½ teaspoon pepper. Bake the potatoes in the middle of the over for about 35 minutes, or until they've lightly browned and are tender. Let cool.
Heat a large skillet to medium high heat; add the rinsed spinach leaves a cook over moderately high heat, tossing with tongs, until completely wilted. Transfer the spinach to a colander to cool. Lightly squeeze the spinach dry and then coarsely chop.
Wipe out the skillet. Add 1 tablespoon of olive oil and heat until shimmering. Add okra, season with ¼ teaspoon salt and ½ teaspoon pepper and cook over moderate heat, turning few times, until the okra is lightly browned, about 5 minutes.
In a large bowl, add the red potatoes, sweet potatoes, spinach, okra and red wine vinegar and toss well to coat.
SOURCE
foodandwine.com/recipes/roasted-sweet-potato-and-okra-salad
Recipe modified by CHOICES Nutrition Education Program
Download the Recipe/Descargue la receta: