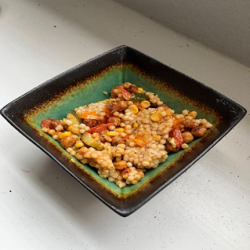 Ingredients
15 oz can no sodium chickpeas, drained, rinsed, and patted dry
1 2/3 tbsp olive oil
1 teaspoon dried thyme
1 large zucchini or yellow squash, diced
1 pint cherry tomatoes, halved
1 bell pepper, diced
1 cup no-salt canned corn
1 cup pearled (Israeli) couscous, uncooked
1 clove garlic, minced
1 ¼ cup low-sodium vegetable broth
Salt and pepper to taste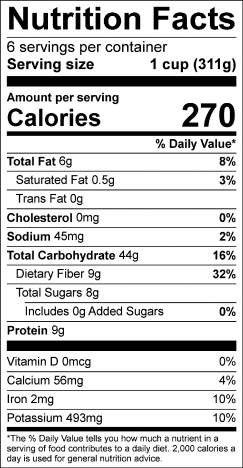 PREPARATION
Preheat oven to 425 degrees.
Start the Chickpeas: In a large bowl, combine chickpeas, 1-teaspoon olive oil, thyme, and 2 teaspoons smoked paprika. Toss to coat. Add to a lined baking sheet and bake for 10 minutes.
Prepare roasted Vegetables: In a large bowl, add the zucchini, tomatoes, pepper, 1-tablespoon olive oil, salt, and pepper. Toss to coat. Add vegetables to a separate lined baking sheet.
Once chickpeas have baked for 10 minutes, gently shake the sheet of chickpeas and return to the oven. Add vegetables into the oven as well. Bake chickpeas and vegetables for another 20 minutes or until chickpeas are crispy and vegetables are slightly browned.
Couscous: While chickpeas/vegetables are roasting, prepare couscous. Add vegetable broth, 1-teaspoon olive oil, and garlic to a pot over medium heat bring to a boil. Stir in couscous, cover with lid; reduce heat to low and simmer 8-10 minutes, stirring occasionally.
Combine the cooked couscous, roasted vegetables and chickpeas in a large bowl.
ADAPTED FROM
cheerfulchoices.com
Recipe modified by CHOICES Nutrition Education Program
Download the Recipe/Descargue la receta: