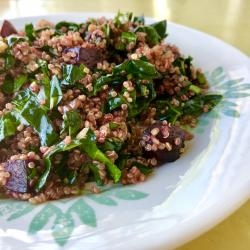 Ingredients
DRESSING:
2 tablespoons minced shallot or onion
1 tablespoon Dijon mustard
¼ cup balsamic vinegar
¼ cup olive oil
SALAD:
1.5 pounds beets, peeled and chopped into small chunks (about 5 medium beets or 3 cups)
1 tablespoon balsamic vinegar
1 tablespoon olive oil
½ teaspoon salt, divided
¼ teaspoon ground black pepper
1 cup dried quinoa
1 bunch kale, stems removed and thinly sliced (about 2 packed cups)
PREPARATION
Preheat oven to 400 F. Line a baking sheet with parchment paper or foil. In a medium bowl, toss the chopped beets together with the vinegar, oil, ¼ teaspoon salt, and pepper. Pour mixture onto the baking sheet. Bake for 30-40 minutes, stirring beets every 10 minutes. Beets are done when they can be easily pierced with a fork.
While beets are roasting, combine quinoa with 1 ¼ cup water in a medium pot. Bring to a boil, cover, and turn heat to low. Cook quinoa on low for 15 minutes, remove from heat.
Add hot quinoa to a large salad bowl. Fold kale into quinoa, mixing until kale starts to wilt. Add dressing and parsley and mix until combined.
When beets are done, fold into quinoa mixture. Add remaining ¼ teaspoon salt. Serve warm or at room temperature.
SOURCE
Thug Kitchen
Recipe modified by CHOICES Nutrition Education Program
Download the Recipe/Descargue la receta: