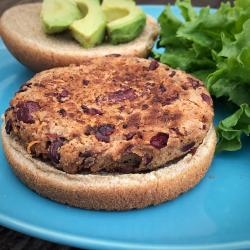 Ingredients
2 cans low sodium red beans (15.5 oz. each), rinsed and drained
1 medium carrot, shredded (about ½ cup)
¾ cup whole wheat breadcrumbs
1 ½ teaspoon chili powder
1 teaspoon dried oregano
½ teaspoon of salt
½ teaspoon of pepper
2 large eggs
2 tablespoons of olive oil
Optional: Lime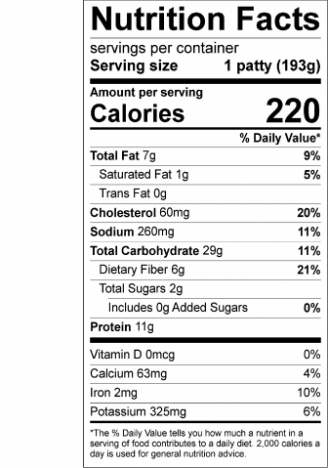 PREPARATION
Lightly mash beans in a large bowl, leaving some whole. Add carrots, breadcrumbs, eggs, chili powder, oregano, salt, and pepper. Divide mixture into 6 portions and form into patties.
Heat 1 tablespoon of olive oil in a large nonstick skillet over medium heat. Add patties and cook undisturbed until bottom forms a browned crust and most of the oil is absorbed, 10 to 12 minutes.
Flip patties and add remaining tablespoon of oil to pan, swirling to coat bottom. Cook, undisturbed, until browned and heated through, 8 minutes. Serve on whole wheat buns with accompaniments such as lettuce, avocados, and tomatoes. For additional flavor, squeeze a lime over patties.
SOURCE
https://www.marthastewart.com/1106712/red-bean-burgers-avocado-and-lime
Recipe modified by CHOICES Nutrition Education Program
Download the Recipe/Descargue la receta: