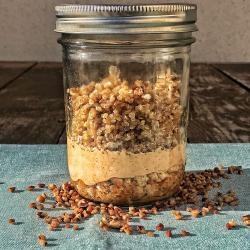 Ingredients
1 cup non-fat Greek yogurt
1/3 cup pumpkin puree
1 teaspoon pumpkin spice
½ teaspoon cinnamon
4 cinnamon graham crackers, crushed (about ½ cup)
½ cup dry quinoa (about 1 cup cooked)
2 tablespoons roasted pecans or walnuts, roughly chopped
PREPARATION
Prepare quinoa according to directions below. Once cooked, season with cinnamon and let cool.
Fill the bottom of 2 glasses with ¼ cup of crushed graham crackers each.
Mix the yogurt, pumpkin puree, and pumpkin spice together. Spoon ½ cup of the yogurt pumpkin mix on top of the crumbs.
Add ½ cup of the cooled quinoa atop of the yogurt mix in cup then top with remaining yogurt mix. Garnish with roasted nuts.
To cook quinoa, rinse 1/2 cup of uncooked quinoa and drain. Place rinsed quinoa in a small pot. Add 1 cup water and bring to a boil. Once boiling, lower heat to low, cover quinoa and let simmer for 25 minutes. Remove from heat and let sit for 5 minutes. Remove lid and fluff quinoa with a fork. 1 cup of dry quinoa yields 3 cups cooked.
 SOURCE
www.howsweeteats.com
Recipe modified by CHOICES Nutrition Education Program
Download the Recipe/Descargue la receta: