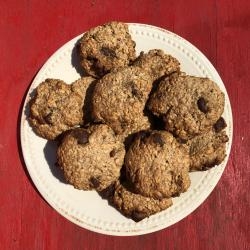 Ingredients
1 ripe banana, mashed
½ cup unsweetened applesauce
1 teaspoon ground cinnamon
3 cups rolled oats
¼ cup maple syrup
1 teaspoon salt
½ teaspoon baking soda
½ cup dark or semi-sweet chocolate chips
¼ cup all-purpose flour
PREPARATION
Preheat oven to 375F and spray cooking oil in a large baking sheet.
In a large mixing bowl, smash the banana using a fork until smooth and no lumps remain.
Stir in the applesauce and cinnamon, stirring well to combine.
Add the peanut butter and stir well to mix. Once these ingredients are well blended, mix in the maple syrup, salt and baking soda
Add the oats, one cup at a time, stirring well in between each addition.
Add chocolate chips and then bring together with the all-purpose flour.
Using a tablespoon, scoop up and shape the dough into cookies. Drop them about 2 inches apart on the prepared baking sheet
Bake the cookies for 11-13 minutes or until browned on the edges and soft on the bottoms.
Let cool completely before serving.
ADAPTED FROM
www.thespruceeats.com
Recipe modified by CHOICES Nutrition Education Program
Download the Recipe/Descargue la receta: