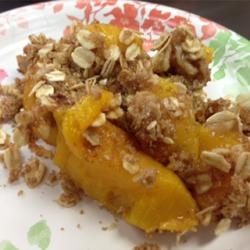 Ingredients
4 15-ounce cans of peaches in juice, drained
1 teaspoon cinnamon
1 lemon, zested and juiced
½ teaspoon vanilla extract
1 tablespoon whole wheat flour
1 ½ cups quick cooking oats
¼ cup butter
1 teaspoon cinnamon
¼ cup Splenda brown sugar blend*
7 tablespoons whole wheat flour
¼ teaspoon salt
*If using regular brown sugar, use ½ cup. Nutrient values will differ.
PREPARATION
Preheat the oven to 375° F and lightly oil a 9x11 inch pan.
Drain the canned peaches. Mix peaches, 1 teaspoon cinnamon, lemon zest, lemon juice, vanilla extract and 1 tablespoon whole wheat flour in a bowl, set aside.
Cut butter into pea sizes pieces. Mix 7 tablespoons flour, oats, butter, 1 teaspoon cinnamon, salt and brown sugar in a separate bowl.
Mix with your hands so that butter is distributed throughout the entire mixture. It should have a crumbly texture and all ingredients should be well mixed.
Add peach filling to greased pan and sprinkle the oat crumble evenly over top.
Baked uncovered for 30 minutes or until topping is browned and juices are bubbling on the sides.
NUTRITIONAL INFORMATION PER SERVING
Calories 252, Total Fat 7g, Carbohydrates 53g, Fiber 3g, Protein 3g, Sodium 74mg, Cholesterol 15mg
SOURCE (OR ADAPTED FROM):
capitalareafoodbank.org/wp-content/uploads/2013/01/Peach-Crumble.pdf
Recipe modified by CHOICES Nutrition Education Program
Download the Recipe/Descargue la receta: