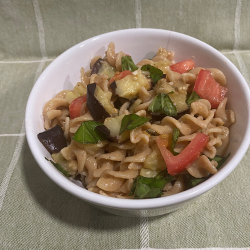 Ingredients
2 medium eggplants (about 2 pound total), cut into 1/2-inch-thick rounds
1/3 cup extra-virgin olive oil, plus more to brush on eggplant
1/4 cup lemon juice from 2 lemons
1/2 teaspoon grated lemon zest
2 medium cloves garlic, divided, minced or put through garlic press
1/2 teaspoon red pepper flakes
1 pound short, bite-size whole wheat pasta such as fusilli
4 large tomatoes, cored, seeded, and cut into 1/2-inch chunks
4 large tomatoes, cored, seeded, and cut into 1/2-inch chunks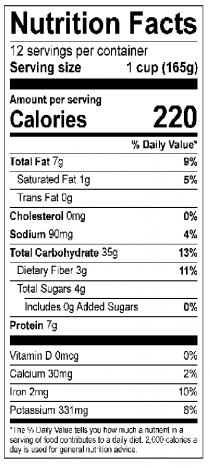 PREPARATION
Bring 4 quarts water to boil in large pot over high heat. Meanwhile, brush eggplant with olive oil to coat very lightly and toss with salt and pepper to taste. Broil on baking sheet placed 4 inches from heating element, turning once, until tender and browned, about 7 minutes total; cool to room temperature. Cut into bit size pieces.
Whisk lemon juice and zest, 1/2 teaspoon salt, 1 clove garlic, and red pepper flakes in large bowl; whisk in 1/3 cup oil in slow, steady stream until smooth.
Add pasta to boiling water. Cook until pasta is al dente and drain. Whisk dressing again to blend; add hot pasta, cooled eggplant, tomato, remaining garlic, and basil; toss to mix thoroughly. Cool to room temperature, adjust seasonings, and serve. (Can be covered with plastic wrap and refrigerated for 1 day).
ADAPTED FROM
cooksillustrated.com
Recipe modified by CHOICES Nutrition Education Program
Download the Recipe/Descargue la receta: