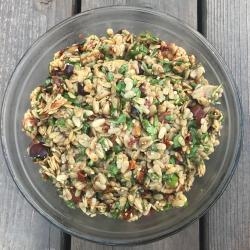 Ingredients
1 ¼ cups (7-8 ounces) whole wheat orzo, uncooked
2 tablespoons extra-virgin olive oil
¼ cup balsamic vinegar
2 garlic cloves, minced
2 ounces (2 cups) baby arugula, chopped
¾ cup Parmesan cheese, grated
½ cup oil-packed sun-dried tomatoes, minced
½ cup pitted Kalamata olive, halved
½ cup sliced almonds, toasted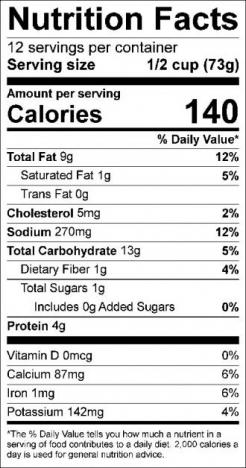 PREPARATION:
1. Bring 2 quarts water to boil in large saucepan. Add orzo and cook, stirring often, until al dente. Drain orzo and transfer to rimmed baking sheets. Toss with a drizzle of oil and let cool completely, about 15 minutes.
2. Combine vinegar, garlic, and ½-teaspoon pepper in large bowl. Slowly whisk in oil until emulsified. Add arugula, Parmesan, tomatoes, olives, almonds, and cooled orzo to dressing and toss to combine.
3. Let salad sit at room temperature for 30 minutes to allow flavors to combine. Serve (salad can be refrigerated for up to 2 days).
ADAPTED FROM: Cookscountry.com
Download the Recipe/Descargue la receta: