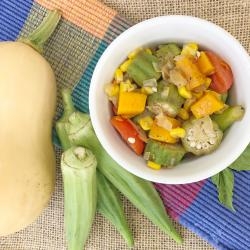 Ingredients
1 tablespoon olive oil
½ onion diced (about 1 cup)
1 clove garlic, minced
2 cups butternut squash, cubed
½ pound okra, ends trimmed and cut in ½ inch pieces (about 4 cups)
1 (15.25oz) can corn, drained, no salt added
1 pint cherry tomatoes, halved
½ teaspoon salt
½ teaspoon ground pepper
PREPARATION
Heat the olive oil in a large pan over medium heat. Add onion and sauté for 3-5 minutes or until translucent. Add garlic and sauté for 1 minute.
Add butternut squash, cover skillet and cook for 5 minutes, stirring a couple of times, until squash is tender.
Add okra and corn. Season with salt and pepper. Cook 2-3 minutes, stirring regularly, until okra is slightly tender.
Add tomatoes, cook another minute then turn off heat.
Taste and adjust seasonings. Sprinkle with basil or parsley for garnish and serve hot.
SOURCE
familyfoodonthetable.com/quick-okra-corn-and-tomato-saute/
Recipe modified by CHOICES Nutrition Education Program
Download the Recipe/Descargue la receta: