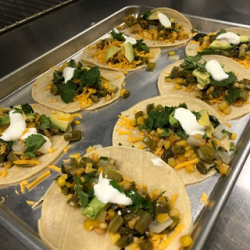 Ingredients
1.5 cups diced cactus (nopalitos)
½ cup yellow onion, diced
½ cup jalapeno pepper, diced
1 ½ cup canned corn kernels
½ cup cilantro, chopped
1 tbsp canola oil
10 white corn tortillas
1/8 tsp salt
1 cup reduced fat shredded cheddar cheese
1 cup plain Greek yogurt
1 whole avocado, sliced
Juice from 1 lime (about 2 tbsp)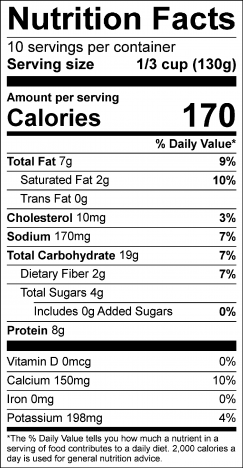 PREPARATION
Fill a medium saucepan with water and heat HIGH until water boils

Add nopalitos and boil until the color turns from bright green to olive green.

Pour nopalitos into a strainer and allow to cool.

Mix lime juice and Greek yogurt and set to the side.

Add oil and corn into pan and mix. Put heat on HIGH. Stir corn 

every 3 minutes until corn starts to have brown roasted spots. Lower heat 

to MEDIUM and add onion, cilantro, jalapenos, and nopalitos. Add salt 

and mix well. Heat until mixture is fully heated and then turn heat off.

Keep on stovetop to keep warm while preparing tacos.

Heat tortillas on stovetop using a skillet. After warming each tortilla, add 

shredded cheese to each taco.

Scoop a 1/3 cup portion of nopalitos mixture into each taco.

Top with chopped cilantro, sliced avocados and a spoonful of Greek yogurt.
SOURCE

(OR

ADAPTED

FROM)
sidechef.com
Recipe modified by CHOICES Nutrition Education Program
Download the Recipe/Descargue la receta: