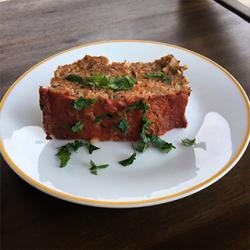 Ingredients
1 pound ground beef, 90% lean
1 large egg, beaten
½ cup of farina hot wheat cereal (such as Cream of Wheat)
¼ cup ketchup, divided
½ cup chopped onion
¼ teaspoon salt
½ teaspoon garlic powder
½ teaspoon ground pepper
1 teaspoon Worcestershire sauce
2 tablespoons water
Toppings
Parsley or basil for garnish
PREPARATION
Preheat oven to 350°F. Grease an 8x4-inch loaf pan and set aside.
In a medium mixing bowl add beaten egg, meat, farina, onion, water, spices, and 2 Tbsp. of the ketchup.
Press mixture into the loaf pan.
Bake 35 minutes. Spread remaining 2 tablespoons of ketchup over meatloaf. Bake an additional 20 minutes or until cooked through.
SOURCE
http://www.creamofwheat.com/recipes/index.php?recipe=Meatloaf
Recipe modified by CHOICES Nutrition Education Program
Download the Recipe/Descargue la receta: