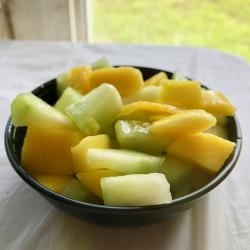 Ingredients
SALAD:
1 ripe mango, peeled and chopped (about 1.5 cups)
1 large cucumber, halved, peeled and chopped (about 2.5 cups)
DRESSING:
3 tablespoons fresh lime juice (about 2 limes)
2 tablespoons olive oil
1 tablespoon honey
¼ teaspoon salt
PREPARATION
In a large salad bowl, whisk together lime juice, olive oil, honey and salt.
Add mango and cucumber to the bowl and gently toss until combined.
Store in an airtight container in the refrigerator for up to 3 days.
*Tip: Use the same tablespoon for all measurements. If you pour the honey in the tablespoon after you've used it for the oil, it will slide out perfectly instead of sticking to the spoon.
SOURCE
https://www.elizabethrider.com/mango-avocado-cucumber-salad-recipe/
Recipe modified by CHOICES Nutrition Education Program
Download the Recipe/Descargue la receta: