Serving Size
2 enchiladas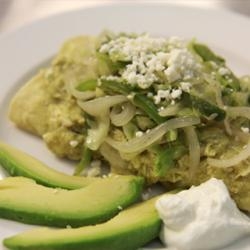 Ingredients
For Salsa
1 ½ pounds green tomatillos (about 15)
1 serrano pepper
2 cups water
1 poblano pepper, seeds removed, diced
¼ cup fresh cilantro
2 cloves garlic
¼ cup onion, sliced
1 teaspoon salt
½ cup plain Greek yogurt
1 cup chicken broth, low-sodium
1 tablespoon canola oil
For Shredded Chicken
2 chicken breast (about 1 pound or 3 cups)
½ small onion (about 1 cup)
2 cloves of garlic
2 cups water
For the Enchiladas
12-14 corn tortillas
Shredded chicken with green sauce
Toppings
Crumbled queso fresco
Greek yogurt
Avocado
Cabbage Jalapeño Stir Fry
PREPARATION
Place the chicken breasts in a pan with enough space to hold the chicken, add onion, garlic cloves and water. Cook chicken for about 20-30 minutes. Shred by using two forks, and set aside.
Wash and place peeled tomatillos and serrano pepper in a small pan with about 2 cups of water. Cook for about 10-15 minutes.
Place cooked tomatillos and serranos in blender along with cilantro, garlic, onion and poblano pepper.
Heat oil in a 5-quart saucepan over medium heat. Add green sauce blend, reserving ½ cup on the side and cover. Put the reserved ½ cup of sauce in the blender, add the Greek yogurt and chicken broth and blend. Add the blender contents to the saucepan slowly and stir with a spoon until combined.
Let sauce simmer for about 10-15 minutes. Remove about 1 cup of sauce and set aside for later. Add shredded chicken to sauce, and combine.
Heat tortillas in skillet or microwave. Dip each tortilla in the saucepan, covering both sides with the sauce.  Fill each tortilla with about ¼ cup of chicken. Once all enchiladas are made, top with the remaining sauce. Garnish with optional toppings. Enjoy!  
SOURCE
Recipe modified by CHOICES Nutrition Education Program
Download the Recipe/Descargue la receta: