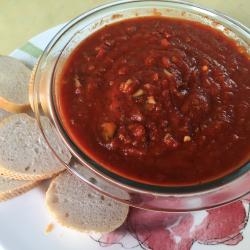 Ingredients
1 tablespoon butter or olive oil
3 cloves garlic, minced
5 anchovy fillets, finely chopped
½ yellow onion, chopped (about 1 cup)
1 teaspoon dried oregano
1 teaspoon dried basil
½ teaspoon red pepper flakes
¼ teaspoon salt
½ teaspoon ground black pepper
4 ounces fresh mushrooms, finely chopped
1 28-ounce can crushed tomatoes, no salt added
PREPARATION
Melt butter in a saucepan over medium heat. Add garlic and anchovies. Cook for a minute, stirring to break up the anchovies. Add onion and cook until onions are translucent, about 5 minutes.
Add all the spices and mix until combined.
Add the mushrooms and sauté for another 5 minutes.
Add tomatoes, bring to a boil and then lower the heat, allowing the sauce to simmer for 15-20 minutes.
ADAPTED FROM
food.com/recipe/10-minute-tomato-sauce-from-americas-test-kitchen-429838
Recipe modified by CHOICES Nutrition Education Program
Download the Recipe/Descargue la receta: