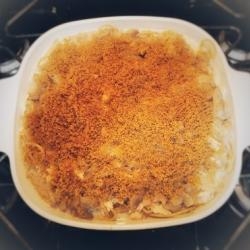 Ingredients
8 ounces whole wheat spaghetti
1 ½ cups mushrooms, chopped
1 yellow onion, chopped
1 cup cooked chicken breast chunks
1 cup part-skim mozzarella cheese
½ cup whole wheat bread crumbs
2 cups chicken broth (no salt added)
1 ½ cups 1% milk
5 tablespoons whole wheat flour
1 tablespoon olive oil
1 teaspoon butter
½ teaspoon salt
½ teaspoon sage
¼ teaspoon black pepper
⅛ teaspoon nutmeg
olive oil cooking spray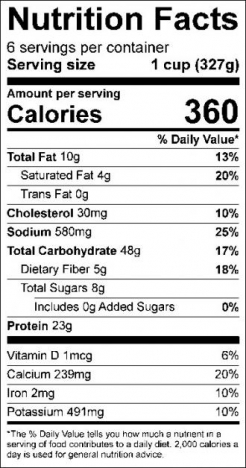 PREPARATION
1. Preheat oven to 375° F and spray a 2 ½ quart casserole with cooking spray.
2. Cook spaghetti according to package instructions, drain, cover in cold water and set aside.
3. Add olive oil to a large skillet over medium heat. Sauté mushrooms and onions until the onions are translucent. Add salt, pepper, sage, nutmeg, and bay leaf. Sauté for 1 minute.
4. Add flour and cook 1 minute, stirring frequently. Continue by adding broth, stirring frequently and simmer for 1 minute. Remove from heat. Stir in milk. Remove bay leaf.
5. Add  of the sauce to the casserole dish. Spread to cover the bottom of the dish.
6. Drain spaghetti. Add ½ of the spaghetti to cover the sauce in the casserole dish. Layer ½ of the chicken over the spaghetti and ½ of the cheese over the spaghetti. Layer the rest of the sauce, spaghetti, chicken and cheese in the same fashion. Cover with sauce at the end.
7. Melt butter and combine melted butter with bread crumbs. Sprinkle mixture over casserole. Bake for 35-40 minutes until bread crumbs begin to brown and the dish becomes bubbly.
8. Allow the casserole to sit for 5 minutes prior to serving. Optional: For color, garnish with parsley; for spice, add crushed red pepper.
ADAPTED FROM
simpleseasonal.com
Recipe modified by CHOICES Nutrition Education Program
Download the Recipe/Descargue la receta: